TV host Socialite April Sutton with Kurt Kelly on ActorsE Chat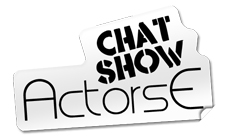 April Sutton is an award-winning Television Broadcast Pioneer in Hollywood. She made history becoming the youngest Inductee in the Broadcasters Hall of Fame in 1993 for her outstanding television reports on Black Entertainment Television (B.E.T.) Network.
More than 40 million TV viewers have watched her entertainment reports covering the Oscar Awards, Grammy Music Awards, Emmy Awards, Golden Globe Awards, American Music Awards, Hollywood Movie Premieres, and Red-Carpet gala events.
The Ohio native became the first hired Hollywood on-air talent for B.E.T., as the "Face of Hollywood" for 10 years, which sealed her name as part of BET's early history.
Her list of celebrity interviews includes: Oscar winners Jamie Foxx, Jennifer Hudson, Denzel Washington, Halle Berry, Tom Hanks, and top artists Jim Carey, Tom Cruise, Beyonce, Janet Jackson, Quincy Jones, Sean Connery, Chris Rock, Jessica Alba, Jennifer Lopez, Mariah Carey, Madonna, Samuel L. Jackson, Robin Williams, P. Diddy, Eddie Murphy and Michael Jackson just to name a few.
Currently residing in Los Angeles, Ms. Sutton is single, and conducts workshops for youth and college students across the country. She holds a Masters Degree in Television Communications from Kent State University, and a B.A. Degree in Speech Communications.
ActorsE Chat is a Live Chat Show on Actors Entertainment, a channel on the Actors Podcast Network, a Pepper Jay Production