Thespian Thoughts Theatre Review – THE MOTHER F**KER IN THE HAT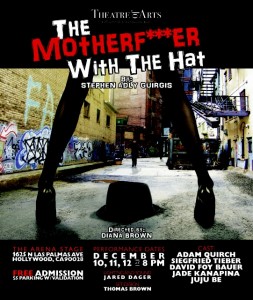 THE MOTHER F**KER IN THE HAT
– Thespian Thoughts Theatre Review

Give yourself a Christmas present and get a ticket to this funny festive show which puts a ho ho ho in the holiday season.
It's a shame this play has a title too offensive to utter in polite company because the latest Los Angeles production was really something worth talking about.
The storyline sees convicted drug dealer Jackie released from prison and about to jump into bed with his girlfriend Veronica when he notices another man's hat in her apartment.

Enraged, he accuses her of cheating on him and sets out on a determined quest to find and hurt the mystery owner of the hat.

Foul mouthed fun follows as profanity laced tirades, angry accusations and comedic confrontations unfold in a play that director Diana Brown cleverly manages to make both hilarious and heartfelt.

Two outstanding performances add to the entertainment and those are given by Adam Quirch as wronged and raging Jackie and Siegfried Tieber as Cousin Julio, who threatens to switch from placid nice guy to vengeful ninja at a moment's notice.
As gutter mouthed girlfriend Veronica, Zhandra Kanapina has fun with the rapid fire dirty dialogue of writer Stephen Adly Guirgis.

The play has just ended a brief run at Theatre of Arts, Hollywood, but for some of these talented performers, a long career in Hollywood is just beginning.
---
THE MOTHER F**KER IN THE HAT
By Stephen Adly Guirgis
Director Diana Brown
Produced by Amir Korangy for Theatre of Arts
---
CAST
Adam Quirch, David Bauer, Zhandra Kanapina, Jujube (Zaoer) Tu, Siegfried Tieber
---
Thespian Thoughts is a theatre review article on Actors Entertainment, a channel on the Actors Podcast Network, a Pepper Jay Production.