Thespian Thoughts Theatre Review – "The Game's Afoot or Holmes for the Holidays" – "Fast moving mirth"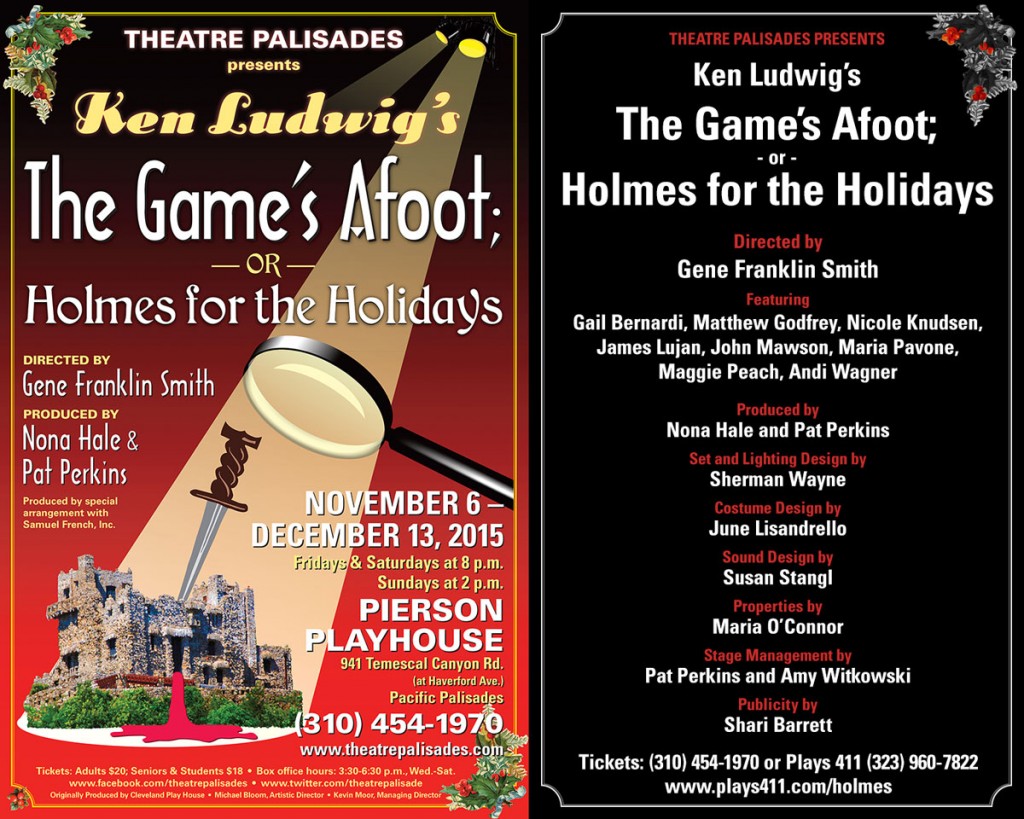 Thespian Thoughts Theatre Review – "The Game's Afoot or Holmes for the Holidays" "Fast moving mirth"
Written by Ken Ludwig
Presented by Theatre Palisades
When a theatre critic gets murdered in a house full of actors, there's obviously no shortage of suspects.

Figuring out who did the deadly deed and even if the victim is really dead is all part of the fun in this fast moving comedy thriller.
Heading the cast while oozing authority, pomposity and killer comic timing is John Mawson as William Gillette, an actor just a little too obsessed with Sherlock Holmes.

He has invited his actor pals over for Christmas Eve but they're all hiding secrets, one of which may lead to murder.
The host thinks his expert knowledge of Sherlock Holmes will give him a better chance of figuring it all out faster than the police inspector who is called to the scene.

Director Gene Franklin Smith runs the show with such an assured touch he guarantees the audience will be too busy laughing at the slick silliness to turn sleuth themselves and solve the mystery behind the mirth.
The Game's Afoot or Holmes for the Holidays
It is December 1936 and Broadway star William Gillette, admired the world over for his leading role in the play Sherlock Holmes, has invited his fellow cast-members to his Connecticut castle for a weekend of revelry. But when one of the guests is stabbed to death, the festivities in this isolated house of tricks and mirrors quickly turn dangerous. Then it's up to Gillette himself, as he assumes the persona of his beloved Holmes, to track down the killer before the next victim appears. The danger and hilarity are non-stop in this glittering whodunit set during the Christmas holidays.
Directed by Gene Franklin Smith
Featured in the cast (in alphabetical order) are Gail Bernardi, Matthew Godfrey, Nicole Knudsen, James Lujan, John Mawson, Maria Pavone, Maggie Peach, and Andi Wagner.
At Pierson Playhouse, Pacific Palisades, California
Fridays, Saturdays and Sundays until December 13
Tickets Adults $20, Seniors & Students $18 available from 310 454 1970 or Theatre Palisades
Shari Barrett
Publicity Director
---
---
Thespian Thoughts is a theatre review article on Actors Entertainment, a channel on the Actors Podcast Network, a Pepper Jay Production.