Thespian Thoughts Theatre Review – PETER PAN: THE BOY WHO HATED MOTHERS

THEATRE REVIEW
PETER PAN: THE BOY WHO HATED MOTHERS
Review by SANDRO MONETTI
<p< < p="">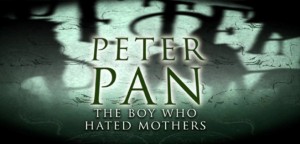 It's Peter Pan like you've never seen him before in this inventive, dark and mature new take on JM Barrie's classic character.
<p< < p=""> </p< <>
The children are all played by adults and have to face some very grown up emotions in a thought provoking production at The Blank's 2nd Stage Theatre in Hollywood.
Peter Pan, an impressive Daniel Shawn Miller, is so hurt by his own abandonment as a child that he carries a seething resentment towards all mothers – and we learn he has kidnapped the lost boys from parents he feels didn't deserve them.
In a clever theatrical device that perfectly suits the story's psychological overtones, evil Captain Hook is played by the same actress who also portrays the mother of the latest children he has spirited away to Neverland, Wendy and John Darling.
Wendy, played beautifully by one to watch Liza Burns, goes from wide eyed wonderment to mounting realization that things aren't going to pan out perfectly with Peter. Ruth Connell brings great movemement, menace and heartbreak to her dual role as Mrs Darling and Captain Hook.
The gritty set design and shadowy lighting all complement Michael Matthews atmospheric directing of a play by Michael Lluberes that suggests Neverland is not a place you'd necessarily like to visit but is certainly a destination you'll never forget.
To paraphrase JM Barrie, take the second star on the left and straight on til morning to see this play and you'll have an awfully big adventure.
Peter Pan: The Boy Who Hated Mothers is performed Thursdays, Fridays and Saturdays at 8 p.m. and Sundays at 2 p.m. through June 2nd at the Blank's 2nd Stage Theater, 6500 Santa Monica Boulevard, Hollywood. For Tickets go to www.TheBlank.com or call (323) 661-9827.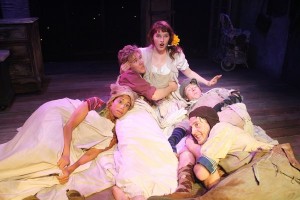 <p< < p=""> </p< <>
PETER PAN:
THE BOY WHO HATED MOTHERS
by Michael Lluberes
based on "Peter & Wendy" by J.M. Barrie
directed by Michael Matthews <p< < p=""> </p< <>
April 20-June 2
Thursdays, Fridays and Saturdays at 8pm, Sundays at 2pm
2nd Stage Theatre
6500 Santa Monica Blvd. <p< < p=""> </p< <>
This radically fresh retelling of the JM Barrie classic is a theatrical event not to be missed. Exploring the original ideas and inspirations behind this iconic fantasy, Peter Pan: The Boy Who Hated Mothers is a dark new retelling of the story of the boy who wouldn't grow up. This is Peter Pan as you have never seen it before but how it was always meant to be told.
To order by phone call (323) 661-9827
For info and tickets
STARRING Liza Burns, Benjamin Campbell, Jackson Evans, David Hemphill, Trisha LaFache, Amy Lawhorn, Daniel Shawn Miller <p< < p=""> </p< <>
ABOUT THE PLAYWRIGHT
MICHAEL LLUBERES: Plays include Peter Pan: The Boy Who Hated Mothers (No Rules Theatre Company, Kennedy Center Page-to-Stage Festival), The Boy in the Bathroom (New York Musical Theatre Festival, NYMF Most Promising New Musical and Best Book Awards, ASCAP/Disney Workshop, Penn State Festival of New Musicals, The Chance Theater, The Festival of New American Musicals, Spirit of Broadway Theatre, Bloomington Playwrights Project), The Geranium on the Windowsill Just Died (Urban Stages). Directing: Twelfth Night (Sonnet Repertory Theatre), Nighttime Traffic (NYMF), 1,000 Cats (UCB, HBO's Funny Or Die Presents). As an actor: National Tour: Dirty Dancing, Off Broadway: American Dreams: Lost and Found, Pudd'nhead Wilson, The Taming of the Shrew, As You Like It (The Acting Company), Heaven Knows (EST). Regional: The Old Globe, Cincinnati Playhouse, St. Louis Rep, Casa Mañana, Capital Rep, Maltz Jupiter, Pioneer Theatre Company. TV: "Chappelle's Show". He is the recipient of The American Harmony Prize, an NEA New Artist Initiative Award, Hambidge and Virginia Center for the Creative Arts Fellowships. He is a graduate of The North Carolina School of the Arts, a member of The Acting Company, Lincoln Center Theater Directors Lab and The Dramatists Guild. www.MichaelLluberes.com
For Press Inquiries Please Contact Ken Werther
E-mail: kenwertherpr@gmail.com <p< < p=""> </p< <>
</p< <>
Thespian Thoughts is a theatre review article on Actors Entertainment, a channel on the Actors Podcast Network, a Pepper Jay Production.