Thespian Thoughts Theatre Review of "Double Bind" – review by Sandro Monetti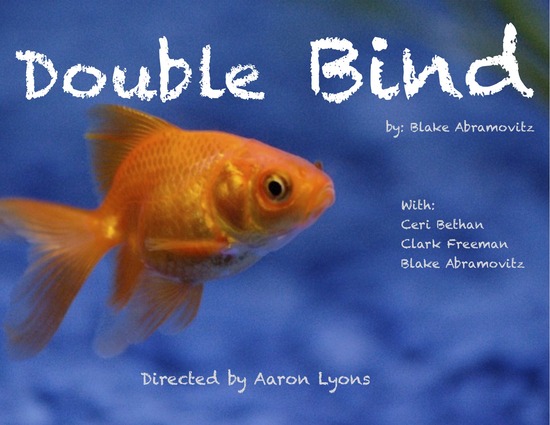 <p< < p=""> <p< < p=""> </p< <></p< <>
Thespian Thoughts Theatre Review of DOUBLE BIND <p< < p=""> </p< <>
When the big bad wolf comes knocking at the door, you shouldn't let him in. But from the moment the couple at the center of this tense new play turn the lock, they are suddenly in trouble.
– Review by SANDRO MONETTI <p< < p=""> </p< <>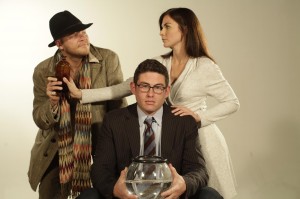 Double Bind, at Theatre Asylum, Santa Monica Boulevard, Los Angeles
<p< < p=""> <p< < p=""> </p< <></p< <>
Reformed bad boy Sam has settled down to a life of domesticity with his smart and sensible girlfriend Laura and their two pet goldfish. Then his wildman old pal Frank shows up – high on drugs and low on funds – and begins to tempt Sam to join him for an adventurous life on the wrong side of the tracks. <p< < p=""> </p< <>
An unconventional tug of love breaks out as Laura and Frank fight for the heart and soul of Sam, who is torn between being a family man or a free spirit. <p< < p=""> </p< <>
Ceri Bethan is outstanding and always utterly real as Laura, whose heart you can almost hear breaking when the man she loves tells her he hates his life. Clark Freeman shines as her unworthy boyfriend Sam, who transforms from disciplined journalist to disreputable junkie over the show's 80 minutes. <p< < p=""> </p< <>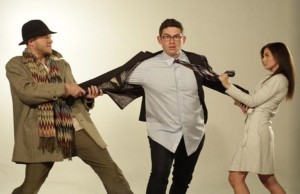 Blake Shields Abramovitz, who also wrote the play, brings both menace and intelligence to Frank and spews a stream of memorable lines like: "If you want to know about the dark forest you've got to live there."
<p< < p=""> </p< <>
Director Aaron Lyons cleverly presents the show – which gets its world premiere at the Hollywood Fringe Festival – as a battle of the sexes as a mature young woman struggles to connect with two clearly immature men in their thirties. <p< < p=""> </p< <>
New research this week revealed that women mature at 32 but men stay immature until 43 – a statistic that would be hard to argue with by anyone lucky enough to see this well observed play. <p< < p=""> <p< < p=""> </p< <></p< <>
DOUBLE BIND by Blake Shields Abramovitz at Theatre Asylum, 6320 Santa Monica Boulevard, Los Angeles
Remaining performances: Mon June 17 at 7pm, Mon June 24 at 8.30pm, Fri June 28 at 8.30pm, Sun June 30 at 4pm.
Tickets $12 from www.hollywoodfringe.org or call 310-902-3142.
Director: Aaron Lyons
Cast: Clark Freeman, Ceri Bethan, Blake Shields Abramovitz
Sound Design: Aaron Lyons Key Art: Alex Scott <p< < p=""> </p< <>
Thespian Thoughts is a theatre review show on Actors Entertainment, a channel of the Actors Podcast Network, a Pepper Jay production.