Thespian Thoughts – theatre review of Benched at the Avery Schreiber Theatre
Benched at the Avery Schreiber Theatre, is "A Finely Crafted Script Pairs Well With Finely Crafted Performances,"
Reviewed by Brett Chapin / Thespian Thoughts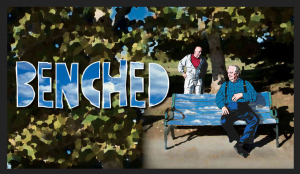 Mobile Version
[flv]/wp-content/videos/48_Thespian_Thoughts_Benched.flv[/flv]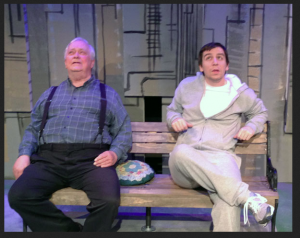 Recently the Interact Theatre Company and the Avery Screiber Theatre were kind enough to invite me to see Benched. A play written by Richard Broadhurst and thoughtfully directed by Anita Khanzadian. The play stars Eddie Jones (ABC's Lois and Clark's Jonathan Kent) as well as Broadway and Off Broadway veteran John Towey.
The majority of the show, it's just them. That means if you're producing this show, you need to have some pretty terrific actors, who know how to command a stage and that's exactly what I saw. Jones and Towry move through their dialogue with ease. I couldn't help but draw similarities to The Odd Couple and other great male comedy teams. What made those classic comedy teams so great is that they managed to blend the comedy in with thought. Just as Eddie Jones and John Towry do in Benched. Back to the story.
The set is simple. A fountain and a bench. Lights up. Randall sleeping on the bench. Max enters and the show begins. To give away any of the key plot points would be to rob you of the many surprises waiting for you in Richard Broadhurst's finely crafted script. I'll let you the viewer witness them for yourself as I did. What I will say is that for the next 90 minutes, you're transported to Central Park and you don't leave until after the curtain call. The sharp tongue in cheek writing and the smooth chemistry between Jones and Towry kept me involved in the show.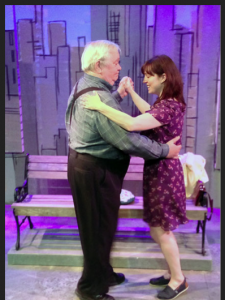 Matt Fowler as The Young Man and Kelly Lohman as Katherine both give solid performances and aid nicely in advancing the story without stealing focus. A sweet scene involving Jones and Lohman dancing, is arguably the best one in the show. Special mention should be made for whoever chose to begin Benched with Billy Joel's New York State of Mind. Though a little obvious, a charming start to what would prove to be a fun ride.
All that being said, no show is without it's flaws and this one was no exception. The actors needed to remember their lines. Plain and simple. I don't know how to put it any other way. I'm sure both leads could act circles around me and certainly have much more experience. But there's no excuse for not being off book. I'm sure this will change, the further into the run they get and won't be problem as time goes on. Somehow this issue still didn't seem to make their performances any less convincing.
If you want to see a good show with sharp writing and great performances by two gifted actors, see Benched, playing now through March 24th at the Avery Schreiber Theatre. For tickets visit interactla.org
By Theatre Reviewer, Brett Chapin
BENCHED: February 1 – March 24, 2013
INTERACT Theatre Company presents the Los Angeles premiere of BENCHED written by Richard Broadhurst, directed by Anita Khanzadian, produced by Alan Naggar. When Max, a disgruntled senior citizen, makes his way to his favorite bench in Central Park to consider what choices he may have left to make his life worth living, he discovers the bench occupied by a stranger who seems determined to disrupt and interfere with whatever plans he may have for himself.
Runs Feb. 2nd – March 24th.
Friday and Saturday at 8PM. Sunday at 3PM.
Tickets: $25. Seniors & Students: $20.
Buy Tickets/Info: Interact LA or (818) 765-8732. Avery Schreiber Theatre, 11050 Magnolia Blvd., NoHo 91601. Starring Eddie Jones and John Towey.
Thespian Thoughts is a show on Actors Reporter, a channel on the Actors Podcast Network, a Pepper Jay Production.