Thespian Thoughts Theatre Review: Mortifyingly Moved by Annette Bening's Medea
Thespian Thoughts
Reliable Small Theatre Reviews and Suggestions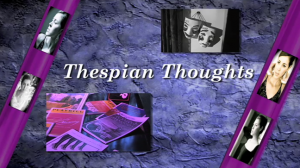 [flv]https://actorsreporter.com/wp-content/videos/2_AE_TT_Medea.flv[/flv]
Title: Medea

Theatre:
Freud Playhouse (in UCLA's Macgowan Hall),
245 Charles E. Young Drive East, Los Angeles (Westwood)
(310) 825-2101 www.uclalive.org.


Seats: Up to 586
Run Dates: Through October 18th 


Review:
Mortifyingly Moved by Annette Bening's Medea
It never ceases to amaze me, how a play written 25 centuries ago, can still possess an equally powerful effect in our 21st century Twitter texting, Facebook frenzy culture. It just goes to show, the themes of Love, Passion, Hatred, Jealousy and Anger will always touch a nerve, just as it did in the days of the Greek Gods.
Having attempted the desperate and destructive role of Medea myself at Drama School, my anticipation to attend 'UCLA Live's' current Production of the Euripides' Classic, starring none other than acclaimed actress Annette Bening, was of utter excitement.
The sounds of Persian percussion instruments against the backdrop of a brooding stage filled with colors of rich Red and Blacks, and an opening line of, "My lovely life is lost, I want to die", sets the tone, that we are about to embark on a mysterious, dark tale ahead.
The radical new staging by international theatre and opera director, Lenka Udovivki, recreates a production that is both timeless and contemporary. We follow the story of the destructive collapse of the Greek Hero Jason and his mystical wife, Medea.
The story begins after Jason has abandoned Medea and his two sons to marry the daughter of King Kreon.
Annette Bening, who starred in Oscar winning films, such as, 'American Beauty', 'Being Julia' and an endless list of theatre credits, including, 'The Cherry Orchard', 'Macbeth' and 'Hedda Gabler', doesn't fail to live up to her outstanding reputation in her powerful performance as a neglected woman of pure strength. I felt her pain, and her undying desire for revenge against a man who has caused her so much grief. Their battle is as intimate as any marital quarrel people experience today, yet remains as epic as the clash of entire civilizations.
Be absorbed by a performance of pure passion. An unforgettable play. A timeless story. Book tickets fast before the end of the run!
– – –
"Medea" — Annette Bening stars in Euripides' classic about the destructive collapse of the passionate affair between the Greek hero Jason and the exotic Medea. Director Lenka Udovicki, who has staged theater and opera around the world, incorporates classical elements, such as a Greek chorus and live music, into this stylized modern production created by UCLA Live. Freud Playhouse (in UCLA's Macgowan Hall), 245 Charles E. Young Drive East, Los Angeles (Westwood). Tuesdays – Saturdays at 8 p.m. and Sun. at 7 p.m through October 18th. $80-$110. (310) 825-2101, www.uclalive.org
Thespian Thoughts is a live theatre review show on Actors Entertainment, a site on the Actors Podcast Network, a Pepper Jay Production.