Thespian Thoughts Theatre Review: La Ronde de Lunch
Enjoy following Danika Quinn and the Actors Entertainment camera inside Hollywood parties and events. Contact comments@actorsentertainment.com for information and prices for inside coverage of your next Hollywood event.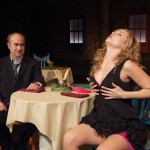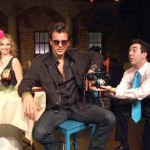 La Ronde de Lunch
Hollywood will eat you for lunch
La Ronde de Lunch has to be one of the most outstanding plays I've seen in Los Angeles so far. I was overwhelmingly excited at such creativity and incredible acting chops that went into this production presented by The Katselas Theatre Company, at the Skylight Theatre in Los Feliz.
La Ronde de Lunch is written by Peter Lefcourt (who is also the executive producer of Desperate Housewives). The play is a hilarious farce on the typical characters you find in the cut-throat world of Hollywood. The story pays homage to Arthur Schnitzler's 1900 classic farce, La Ronde. However, director Terri Hanauer has put her own 21st century spin on ten agenda-driven diners interacting with each other at Tinseltown's most pretentious and expensive restaurant, El Pueblo de Venezia. We see how these stereotypical characters, including an impatient Producer, a stern Studio Exec, the romantic realtor, an over the hill actress, an obsessed personal fitness instructor, an alcoholic writer, the lonely lawyer, the ADD agent and babbling bimbo, are all struggling to somehow get something out of the other. Through their movie dealings, negotiations, and shenanigans, we soon see how corrupt the town really is and how everyone wants to buy each other with sex, or in this case lunch! Every new lunch scene is introduced by an outburst of song and dance by the out of work actors, serving as waiters…..all going by the same name of Bruce. Oh, lunch in Hollywood is not a meal it is the ultimate power dance.
I was so impressed by the depth that the actors had taken to embody such wonderful personalities. I particularly loved the aggressive agent played by Joe Briggs. This guy could give Entourage's Ari Gold a run for his money. The writer, played by Brynn Thaler,exuded such brilliance, with her martini loving andolive sucking tendancies! The whole cast was absolutely spectacular. This is definitely one you must must go and see! You will be laughing all the way home. And you may just end up sitting next to a member of the Desperate Housewives cast….
Runs until December 20th
Skylight Theatre … 99-seat theatre
1816 North Vermont Ave, Hollywood, CA 90027
310 358 9936
Fri & Sat 8pm, Sunday 7pm
General tickets $25, Students and Seniors $15
General Info : www.katselastheatre.org

The Skylight Theatre is the annex of the Beverly Hills Playhouse, one of LA's oldest and most respected acting schools.
La Ronde de Lunch
Written by Peter Lefcourt
Directed by Terri Hannauer
Adapted from the turn-of-the-20th Century Austrian playwright Arthur Schnitzler's classic comedy, "Le Ronde."
Cast:
Kathryn Harrold
Michael B. Silver
Kate Siegel
Joe Briggs
Gina Hecht
Brynn Thayer
Haley Strode
Robert Trebor
Fiona Gubelmann
Jay Huguley
Daniel Montgomery
Demetrius Keone Thomas
Amanda Kruger
Matt Austin
Clent Bowers