Thespian Thoughts Theatre Review – JACK & JILL – Santa Monica Playhouse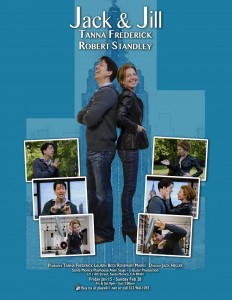 Thespian Thoughts Theatre Review – JACK & JILL "hugely entertaining and thought provoking"
When you have enough emotional baggage to fill an airport, can a new relationship succeed? That's the dilemma facing the title characters in this hugely entertaining and thought provoking look at modern love.
From delight to disillusionment and all the funny, sad and frustrating points in between this is a very real study of romance and its obstacles to happiness.
If the play's stars Tanna Frederick and Robert Standley seem comfortable with each other and with their director Jack Heller, they should – as the same trio previously mounted one of L.A.'s most successful recent stage productions, 2013's The Rainmaker, which ran for nearly a year.
Frederick is outstanding here as the damaged, distrusting, vulnerable and mercurial Jill and gives a performance of such depth that you can immediately imagine the many heartbreaks her character has suffered in the past.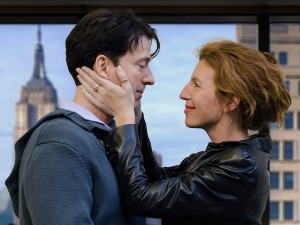 Will she live happily ever with Jack? Maybe the better question is: does such a state really exist?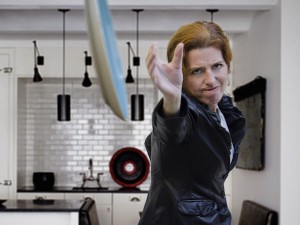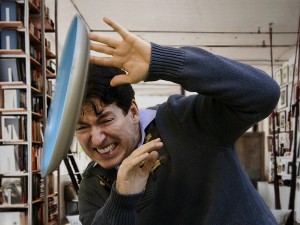 ---
Jack and Jill
By Jane Martin. Directed by Jack Heller.
Starring Tanna Frederick and Robert Standley.
Produced by J&J Productions.
At Santa Monica Playhouse, 1211 Fourth St., Santa Monica, CA 90401.
Fri. & Sat. at 8:00, Sun. at 3:00 until April 24. Dark April 8 thru 10.
Tickets Fri. & Sat. $25, Sun. $20 from (323) 960-1055 or www.Plays411.com
Photos by Adrian Carr.
* * * * * *
A new production of Jack and Jill at Santa Monica Playhouse reunites a trio of artists who achieved critical acclaim and popular success with their previous collaboration, a mounting of The Rainmaker in 2013 that ran for nearly a year and was hailed by a number of publications, among them the Los Angeles Times, which designated it a Critic's Choice, and L.A. Weekly. Director Jack Heller re-teams with his stars Tanna Frederick and Robert Standley in the very modern romance, Jack and Jill.
Jack and Jill are two very different people. Jack's eyes light upon Jill one day, as she reads a book of poems by Sylvia Plath. He is immediately drawn to her and begins to pursue her. He is a professional "imagist," she's a medical student. Both have previous romantic baggage. There's no special reason they should fall for each other, but fall they do, as Jack and Jill follows the couple through courtship, marriage, disillusionment, and perhaps, finally, hope.
Can love endure when the road is so fraught with obstacles? Jack and Jill will have to realize how vital they are to each other. Then again, true love has always been worth the effort.
The famously pseudonymous Jane Martin is the playwright of Jack and Jill, which debuted in 1996. One prevailing theory is that Martin is a collaboration between designer Marcia Dixcy and her spouse, director Jon Jory, who directs all of Martin's plays. Martin's other works include Keely and Du, Talking With…., Vital Signs, Laura's Bush, and 42 more.
Tanna Frederick stars as Jill. Her stage credits include Train to Zakopané, Just 45 Minutes From Broadway, Sylvia, Always…But Not Forver, A Safe Place, Dutchman, The Rainmaker and more. Known as a queen of indie films, her screen credits include the upcoming Ovation, The M Word, Irene in Time, Just 45 Minutes From Broadway, Hollywood Dreams, Queen of the Lot, and more.
Robert Standley stars as Jack. He won an Ovation Award for his performance in Barbarians and Outer Critics Circle Awards for his roles in A Streetcar Named Desire and Picnic. Other stage turns include Post Office (at the Kirk Douglas) and national tours of Cotton Patch Gospel, According to Coyote, and The Rainmaker. He's familiar to televison audiences from stints on Invasion, Melrose Place, Breaking Through and All My Children.
Jack Heller directs. He has helmed over 60 productions in the U.S. and Canada, and also television (Mary Hartman, Mary Hartman). Also an acclaimed actor, he appeared on Broadway in Luv, locally in Tennessee in the Summer, in the film Queen of the Lot, and both the stage and screen versions of Just 45 Minutes From Broadway.
Jack and Jill celebrates romance, and is perfect entertainment for those who are in love, those who have been in love, and those who still hope to be in l
---
---
Thespian Thoughts is a theatre review article on Actors Entertainment, a channel on the Actors Podcast Network, a Pepper Jay Production.