Thespian Thoughts Theatre Review: Follow Your Dreams
Thespian Thoughts
Reliable Small Theatre Suggestions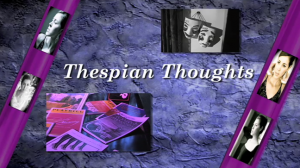 Title: Follow Your Dreams
Theatre: Secret Rose Theatre
11246 Magnolia Blvd, North Hollywood 91601
Seats: 60 (49 twenty-two inch screening room style theatre seats
Run Dates: Through October 31st.
Are you ready to follow your dreams?
Who would have thought a single room in a telemarketing firm could hold so much drama? Well, the transformed room in the Secret Rose Theatre is overloading with drama. We follow ten vivacious individuals, each harnessing hidden dreams, secret lives … and some damn good singing voices.
Follow Your Dreams is an original musical, written and produced by Laurie Stevens and Ronald Jacobs. It follows ten individuals from different walks of life, gathered together in one telemarketing room. Each tires their hardest to do the same one thing … sell the diet pill, "Flab U Less." At the same time, each is strives to pursue their deepest passions so they will NEVER have to make another mundane sales call again.
We follow their individual desires as they influence each other through the comedies, dramas and tragedies of their lives. As the play moves forward, you begin to sympathize with what they are going through. The energy and passion of all ten actors never lagged and their enthusiasm was deeply inspiring and motivating. And, isn't that what theatre's all about in the end? Being moved. Through ten songs, a plethora of awesome outfits, some great lines, witty jokes, death, romance, and touching dialogue, Follow your dreams managed to move us emotionally.
A noteworthy mention goes to the beautiful voice of 'Judy Ho' who played the strikingly, aggressively sexy Tammy. With a pair of lungs like that, she is definitely going far. I was particularly touched by the sensitive and gripping actor, 'Hector Hank', whose portrayal of a struggling drug addict was emotional and incredibly realistic.
I particularly sympathized with "Dan Woren's" character who had to rule over the combined quirky characters in the office. His performance was extremeley convincing. Poor man to supervise all those dreamers!
A must see for all those who work in Telemarketing. And, of course, for anyone who wants to be inspired to Follow Your Dreams. Which I believe is all of us.
Runs through October 31st.
Secret Rose Theatre,
11246 Magnolia Blvd, North Hollywood 91601
Fridays & Saturdays 8pm, Sundays 2pm.
Reservations call: 866 811 4111
Or visit:
www.plays411.com/followyourdreams
Thespian Thoughts is a show on Actors Entertainment, a site on the Actors Podcast Network, a Pepper Jay Production.