Thespian Thoughts – Theatre Review: Big River – Big Winner
Thespian Thoughts
Reliable Small Theatre Suggestions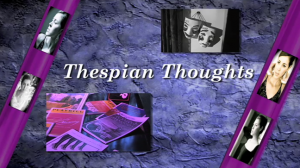 [flv]https://actorsreporter.com/wp-content/videos/1_AE_TT_Big_River.flv[/flv]
Title: Big River
Theatre:
Crossley Theatre

1760 N. Gower St.
Hollywood, CA 90028

For information: www.ActorsCo-op.org


Seats: 99 Seat Theatre in the Round
Run Dates: Through November 15th (but may be extended)







BIG RIVER…. BIG Winner
If you never got to read the 'Adventures of Huckleberry Finn' as a child….or as an adult …., then you are in luck this fall, as the Actor's Co-op has graced the Crossley Theatre in Hollywood with the vivacious voice behind Mark Twain's Great American Novel.
The Tony Award winning Musical, BIG RIVER: The Adventures of Huckleberry Finn has been brought to life by an alarmingly talented cast, which proves that musicals in Hollywood are as much alive & kicking as on any stage in New York City.
Directed by the creative Richard Israel, who recently worked on the Los Angeles Premiere of 'Big-The Musical', the story chronicles the journey of the beloved literary figure, Huckleberry Finn, played by the criminally captivating, Sean Hankinson, who narrates his musical journey with such energy and inviting vulnerability, that you can't seem to take your eyes off his, even as the play draws on towards the end.
Huck Finn, escapes from his wretched Aunts and drunken Pap, cleverly faking his own death, and engages in a journey down the Mississippi River with the escaped slave, Jim, played by James Fowler, an actor with a rich depth to his soul. His drive to find his wife and children is portrayed with great fervour, however, he seemed much too clever to convince me that he was an uneducated scavenge. Their growing friendship is touching, and their beautiful harmonizing voices in 'River in the Rain', combined with the atmospheric starlight's, almost made you forget you were at a small theatre in Hollywood.
Along the way, their encounters with the witty 'Duke' and 'King', who are really escaped prisoners, provide a wonderful comedic addition to the journey. The relationship between the two actors is electrifying to watch and both have a fine flair for comedic timing. I particularly enjoyed, Bruce Green's passionate dramatic performance which he so wittily renames, 'Hamlet's immortal soliloquy', and if Stephen Reynolds' belly dancing as a disguised creature they call 'nonsuch', not quite a man or a woman with a 3rd breast and eye in the middle of his nose, doesn't get you smiling, I don't know what will! Throughout the play we see Huck deal with the moral conflict with the received values of the society in which he lives. He ends up making a moral choice based on his own evaluation of Jim's friendship and human worth, a decision in direct opposition to what he is taught. By the end of the play both Huck and Jim find the freedom they are longing for, and Huck declares, quite rightly so, he is quite done to be writing his story. And I can hardly blame him after all the poor boy has gone through.
The whole cast work in great ensemble, and even the smaller sub characters drive the play with energy and passion. The angelic voices of the 'slaves' were moving, and the choreography was slick and kept you , absorbed. A noteworthy mention goes to Bryce Blue, who played the creative little Tom Sawyer. His tom foolery and playfulness made him contagiously entertaining. I became the biggest fan, however, of David Atkinson. He played the drunken Pap and a variation of other characters with such conviction, realism and richness, I found it quite a shame I couldn't get to experience a little more of him throughout .
If you want to experience laughter and perhaps a tear or two, don't miss out seeing this fresh, young, highly talented cast relive this traditional, endearing tale.
Runs through November 15th (but may be extended)
Actors Co-op Crossley Theatre,
1760 N. Gower S, Hollywood
Tickets $25-$34
For reservations call 323 462 8460
Their drifting journey portrays an enduring image of escape and freedom.
Creative Team:
Executive Producer: Gina D'Acciaro

Director: Richard Israel
Musical Director: Linda Kerns
Choreographer: Julie Hall
Set Designer: Stephen Gifford
Costume Designer: Vicki Conrad Dlugolecki

Lighting Designer: Lisa D. Katz

Sound Designer: Rebecca Kessin


Cast: The talented ensemble of BIG RIVER includes Desean Anderson, David Atkinson, Bryce Blue, Curt Bonnem, Brian Byers, James Fowler, Bruce Green, Pamela Hamill, Anna Hulsey, Joshua Kuehl, Miles Jeffries, Sean Hankinson, Kellen Law, Rory Patterson, Liz Randall, Stephen Reynolds, Tracy Ray Reynolds, Cari Satre, Kyle Shepard and Landen Starkman.

Thespian Thoughts is a show on Actors Entertainment, a site on the Actors Podcast Network,
a Pepper Jay Production.