Thespian Thoughts Theatre Review: A Little Night Music: a stand out musical!
Melissa Suzanne, Theatre Reviewer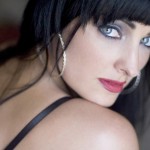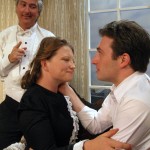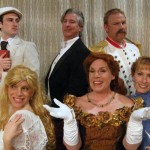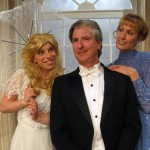 A Little Night Music … Humorous It Is! … Infectious!
Theatre: Westchester Playhouse
Seats: 112
Run: Through December 12th
Do you long to travel to a time where everything seems easy? Where the concerns of the day are who's hosting the next must-attend party, going to the theatre, and playing croquet? Transport yourself back to the turn of the century in this charming, well-written play with music and lyrics by the renowned Stephen Soundheim. "A Little Night Music" is the story of intertwining lives involving an actress Desiree, her daughter Frederika, her mother Madame Armfeldt, her old lover Frederika, his new wife Anne, his son Henrik, her new lover the Colonel and his wife charlotte. The play allows us to see into each of the character's lives individually and collectively, through the humorous dialogue and the light-hearted music that is narrated by five upscale singers. And, humorous it is! At one point, the Colonel's wife says sarcastically, "I know, I am a hawk and you are a tiger. We should start a zoo." The play follows the cast in their efforts to discover who is in love with whom, much like a modern day soap opera, with the desired targets often changing.
Stand-out musical numbers include, "A Weekend in the country," involving the entire cast and Susie McCarthy's (Desiree) performance of Soundheim's popular "Send in the Clowns." Kristin Towers-Rowles (Anne) makes an undeniable imprint both in voice and acting ability. The live music was well-played, the costumes were fabulous and the cast genuinely seemed to be having a great time, which was infectious!
A must-see small theatre performance, running through December 12th, 2009, by the Kentwood Players at the Westchester Playhouse.
Music and lyrics by
Stephen Sondheim
Book by Hugh Wheeler
Directed by Sheridan Cole Crawford
Produced by Jordan Bland
CAST
Madame Armfeldt – Silver Shreck
Desiree Armfeldt – Susie McCarthy
Fredrika Armfeldt – Hannah Provisor
Fredrik Egerman – Kevin Michaels
Anne Egerman – Kristin Towers-Rowles
Henrik Egerman – Jeremy Speed Schwartz
Count Carl-Magnus Malcolm – Jeremy Fillinger
Countess Charlotte Malcolm – Lynn Reed
Petra – Sarah Maher
Frid – Adam Dunberger
Malla – Karintha Touton
And THE LIEBESLIEDER SINGERS:
Jerry Cordova, Harold Dershimer, Jacqueline Crist-Franzen, Shirley Hatton and Robyn Rothstein
Westchester Playhouse
8301 Hindry Avenue
Westchester, California
Thespian Thoughts is a theatre review show from Hollywood California, on Actors Entertainment, a site on the Actors Podcast Network, a Pepper Jay Production.