Thespian Thoughts: "The Train Driver" is a moving production highly commended for its raw and honest story.
[flv]/wp-content/videos/22_Thespian_The_Train_Driver.flv[/flv]
Title: "The Train Driver:"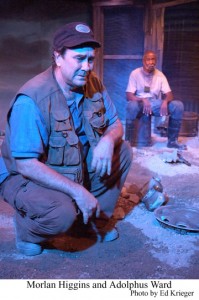 Hi, I'm Erica Mer from Actors Entertainment, welcome to Thespian Thoughts, for theater reviews. "The Train Driver" is a moving production that I highly commend for its raw and honest story written by the South African native Athol Fugard. Hollywood's Fountain Theater housed the play. The well-known theater provides an intimate and untraditional atmosphere. As the audience takes their seats, we are very close to the stage, whose set design resembles that of an open and deserted site in the middle of South Africa. In addition to the luminous set and lighting, the acting was absolute brilliance. Both actors mold to their roles and take Fugard's writing to a whole other level in "The Train Driver."

Athol Fugard read a story in the newspaper about "a black South African mother who grabbed her three children and pulled them onto the railroad tracks in front of an oncoming train." Truly disturbed, Fugard begins to write in a journal that later becomes the outstanding play, "The Train Driver."
The play describes the emotions felt after the train hits the woman and her children. Roelf, the train driver is played by the memorable Morlan Higgins. Roelf's transformation from the beginning of "The Train Driver" to the end is phenomenal. The role of Simon, performed by the fantastic Adolphus Ward, plays an unexpected stranger who helps the train driver overcome his emotional burdens. Both actors open up to the crowd and cast memorable experience throughout the evening.
I highly recommend the appearance of the play "The Train Driver." Although the subject matter is far from humorous, it's an extremely important story.
"The Train Driver" plays through December 12th at the Fountain Theater in Hollywood, CA. For more information, please visit www.FountainTheatre.com
I'm Erica Mer, with Actors Entertainment. Thank you for joining me on Thespian Thoughts. Remember, all the worlds a stage. Bye!!!
Cast:
Roelf-Morlan Higgins
Simon-Adolphus Ward
Crew:
Playwright- Athol Fugard
Director- Stephen Sachs
Producer- Simon Levy, Deborah Lawlor
Set Design- Jeff McLaughlin
Lighting Design- Ken Booth
Costume Design- Dana Rebecca Wood
Sound Design- David B. Marling
Props- Shannon Dedman
Production Stage Manager- Elna Kordijan
Subscriptions Director- Diana Gibson
Technical Director- Scott Tuomey
WHEN:
Performances: October 16- December 12
Thursdays @ 8 pm: Oct. 21, 28; Nov. 4, 11, 18; Dec. 2, 9 (dark November 25)
Fridays @ 8 pm: Oct. 22, 29; Nov. 5, 12, 19, 26; Dec. 3, 10
Saturdays @ 8 pm: Oct. 23, 30; Nov. 6, 13, 20, 27; Dec. 3, 11
Sundays @ 2 pm: Oct. 17, 24, 31; Nov. 7, 14, 21, 28; Dec. 4, 12
WHERE:
The Fountain Theatre
5060 Fountain Ave.
Los Angeles CA 90029
(Fountain at Normandie)
HOW:
(323) 663-1525 or www.FountainTheatre.com
TICKETS:
Opening Night (October 16): $35
Thursdays and Fridays: $25
Saturdays and Sundays: $30
Seniors over 62 (Thursdays and Fridays only): $23
Students (with ID): $18
Previews: $15
Parking:
Secure, on-site parking: $5