Thespian Thoughts – The Lake House Project – Theatre Review by Sandro Monetti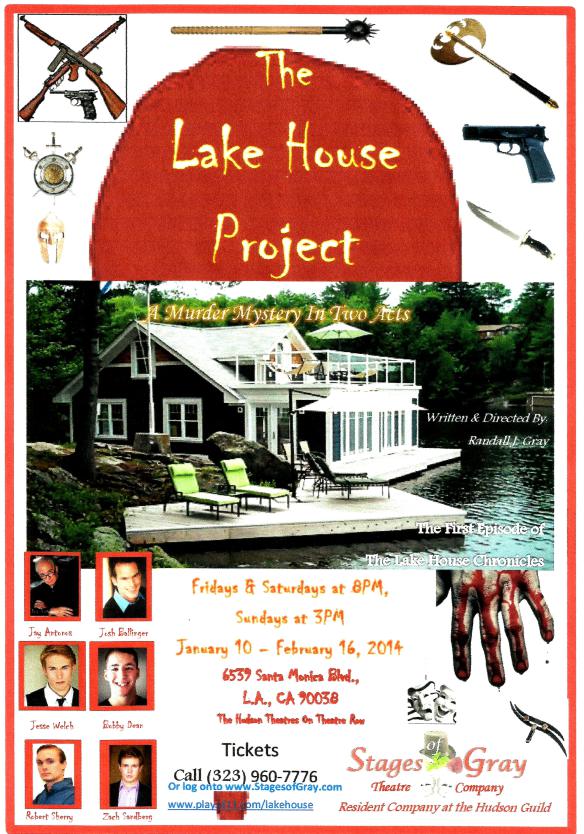 THE LAKE HOUSE PROJECT
Intense, intriguing and unsettling, The Lake House Project is a murder mystery play that will keep you guessing.
Theatre Review by SANDRO MONETTI
Information unfolds gradually until you realize something extremely sinister could well be in the works.
It's the story of a famous crime novelist who is short of a plot for his next book until he hatches a devilish scheme to act out a twisted scenario involving his protégé and his accountant.
To tell you more than that would spoil the suspense – although the actors come close to doing that when they suddenly break the fourth wall and speak directly to the audience, an odd decision by writer-director Randall J Gray which interrupts rather than adds to the tension.
But the audience is won back by the eerily effective set, lighting and sound which combine to create a spooky atmosphere and expectation of bloodshed ahead.
The show is well anchored by Jesse Welch – by far the most interesting of the three actors – as Josh, the author's assistant and protégé who is in for a night to remember, as are the audience.
THE LAKE HOUSE PROJECT
Presented by Stages of Gray Theatre Company
Written and Directed by Randall J Gray
Fridays and Saturdays at 8pm, Sundays at 3pmpm until February 16
At Hudson Guild Theatre, 6539 Santa Monica Blvd, Hollywood CA 90038.
Tickets $25 . For reservations call 323 960 7776 or reserve online at www.plays411.com/lakehouse
CAST
Jay Antonos as Byron Meade
Jesse Welch as Joshua Townsend
Robert Sherry as Christopher Devlin
Set Design, Lighting Design and Sound Design all by Randall Gray.
Publicity by Philip Sokoloff
Thespian Thoughts is a theatre review article on Actors Entertainment, a channel on the Actors Podcast Network, a Pepper Jay Production.