Thespian Thoughts: "Sugar Daddy:" "A Biting comedy…..with calories."
[flv]/wp-content/videos/21_Thespian_Sugar_Daddy.flv[/flv]
Title: "Sugar Daddy:" "A Biting comedy…..with calories."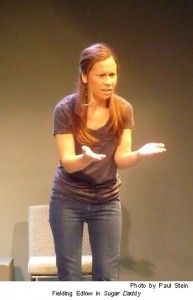 Hi, I'm Erica Mer from Actors Entertainment, welcome to Thespian Thoughts, for theater reviews. I had the pleasure of attending the sweet and hilarious one-woman show, "Sugar Daddy," which plays at the Lounge 2 Theater in Hollywood, CA. "Sugar Daddy" stars the very talented Fielding Edlow, who has the natural ability to take on a play, all on her own. Fielding is both the starring actor and the writer. "Sugar Daddy" is an hour show, no intermission, just Edlow and her stories.

In "Sugar Daddy," Edlow acts out her relationships with an inappropriate father, controlling mother, and multiple therapists. Edlow is a Jewish binger who has more issues than she can handle. This relatable character makes the play even funnier.
The stage in "Sugar Daddy," is empty, just a few chairs and basic lighting. This allows the story to be enjoyed, without being distracted. Fielding controls the floor, using every piece of the stage.
"Sugar Daddy" is a tasteful and deliciously fun comedy that should be attended. Edlow takes on this one-woman show, which is anything but simple. However, Edlow does it very well and entertains every person in the audience.
"Sugar Daddy" plays until November 29th at the Lounge 2 Theater in Hollywood CA. For more tickets and more information, go to www.plays411.com/sugardaddy.
I'm Erica Mer, with Actors Entertainment. Thank you for joining me on Thespian Thoughts. Remember, all the worlds a stage. Bye!!!
Thespian Thoughts theater reviews is on Actors Entertainment, a site of the Actors Podcast Network, a Pepper Jay Production.