Thespian Thoughts – Seascape With Sharks and Dancer – Theatre Review by Sandro Monetti
SEASCAPE WITH SHARKS AND DANCER
Boy meets girl, girls treats boy horribly, boy loves girl anyway – that's the premise of this unconventional love story. As Seascape With Sharks and Dancer certainly shows, opposites attract.
– Theatre review by SANDRO MONETTI
It starts with loner librarian Ben pulling mystery girl Tracy out of the sea, apparently saving her from drowning, and taking her back to his messy beach house.
He shows her consideration and kindness but she is clearly damaged and unleashes all manner of insults and even physical attacks upon him.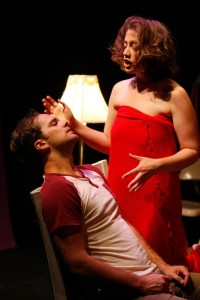 But this guy will seemingly put up with anything and as the vicious assaults continue it would be easy to see Ben as a wimp and Tracy as a monster but, of course, it's not quite as simple as that.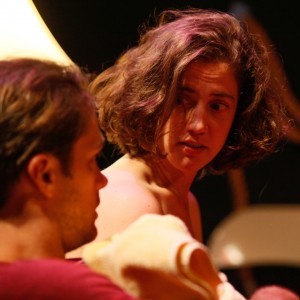 The two performers work well with each other to keep the relationship dynmics interesting. Lane Compton as Ben has a nice, natural acting style and Ri Versteegh creates a fascinatingly troubled character in Tracy.
The trouble with Don Nigro's play, directed by Matt Doherty, is that it's hard to root for a happy ending because the central duo are so different you wonder if they would be better off apart. But then again, as this play certainly shows, opposites attract.
SEASCAPE WITH SHARKS AND DANCER
Written by Don Nigro. Directed by Matt Doherty. Presented by I Think I Can Productions.
Fridays and Saturdays at 8pm, Sundays at 4pm until December 15. Dark on Nov 29, 30 and Dec 1.
At The Santa Monica Little Theatre, 12420 Santa Monica Boulevard, Los Angeles, CA 90025.
Tickets $12 online, $15 at the door. For reservations call 310 622 4482 or reserve online at www.theblackboxtheater.org
CAST
Lane Compton as Ben
Ri Versteegh as Tracy
CREDITS
Stage Manager – Savannah Brown
Sound Designer – Sebastian Sheehan Visconti
Design Consultants – Mike Brainard, Danuta Tomzynski, Andrew Wilder.
Publicity – Philip Sokoloff
Thespian Thoughts is a theatre review article on Actors Entertainment, a channel on the Actors Podcast Network, a Pepper Jay Production.