Thespian Thoughts – "Passengers:" "Love is like a bus stop, some people seem to be waiting for it here."
[flv]/wp-content/videos/14_Thespian_Thoughts_Passengers.flv[/flv]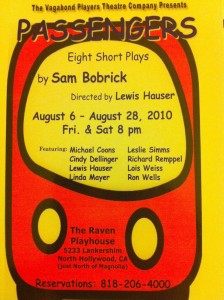 "Love is like a bus stop, some people seem to be waiting for it here."
The Vagabond Players Theater Company presents, "Passengers," by author Sam Bobrick. This theater company is "a 12-year-old self producing company of actors, directors, and writers committed to the production of quality published and original works of passion, depth, and humor, illuminating the various colors of the human experience." Lewis Hauser directed and Catherine Michaels produced this production that brings positive work to the stage. The show involves eight actors who play seventeen characters in eight short scenes, all set in a small mid-western bus station. Bobrick's writing provides wit and clever twists, which I enjoyed greatly. Some of the concepts within "Passengers," are over the top, but extremely enjoyable because they're real. Life is not always censored or respectable, they are sometimes cruel and difficult to watch. He allows the audience to watch relatable characters and have fun while doing it.
Each scene allows the audience to feel what its like at a bus stop. What's especially engaging is observing the different groups of people as they converse. Personally, I am a people watcher and enjoy drawing my own conclusions about who they are, where they are possibly going, and why. The concept for this play allows the audience to watch without getting caught staring at the wacky characters.
Each scene was different from the next, but because the story was well written, all the sections came together.
The first scene, at the bus stop, involves two lonely and sad people who believe they are dead. They sit together, imagining how the afterlife will be. They eventually break away from their miserable feelings and allow happiness to stem from each other's company. One line that I found to be so clever is, "I'm a republican." "Why are you telling me that?" "I didn't want you to expect too much." The transition from this story to the next was subtle, but the subject matters were so different.
The last story that I really enjoyed involves a woman wearing a wedding dress and she runs into the bus station with a gentleman. The man is not in a suit, but rather in jeans and a shirt. I will not give away the plot, but a line that really made me laugh was, "To be carried away by my old boyfriend, this is always how I wanted my wedding to be." This particular scene plays quite differently from one that the audience may expect.
"Passengers," tells eight short stories that all provide wit, humor and overall a very enjoyable time. I encourage people to attend the production of "Passengers." I am certain that every person in the audience will be able to relate to at least one character, or know somebody with a similar story. "Passengers" writing and storyline is simply fantastic and should not be missed.
The Vagabond Players Theater Company presents:
"Passengers"
A Comedy/Drama
By: Sam Bobrick
Runs: Fridays & Saturdays at 8:00pm
Closing: Saturday, August 28, 2010 at 8:00pm
Location: The Raven Playhouse
5233 Lankershim Blvd, North Hollywood (just north of Magnolia)
Parking: Street parking near the theater, also city lot (entrance on Magnolia, free after 6:00pm)
Tickets: $15-Students, Seniors & Group discounts
Reservations: (818) 206-4000