Thespian Thoughts – "Neighbors:" "And I told you, you were an African, not an Africant"
[flv]/wp-content/videos/15_Thespian_Nieghbors.flv[/flv]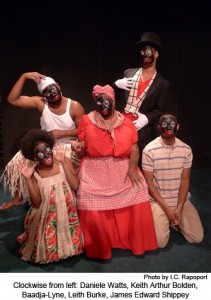 Title: "Neighbors"
Your Theatre Reviewer: Erica Mer
"Neighbors:" "And I told you, you were an African, not an Africant."
Hi, I'm Erica Mer, your theatre reviewer for Thespian Thoughts on Actors Entertainment.
The play, "Neighbors," brilliantly presented by the Matrix Theatre Company in Hollywood California, left a big impression on me. "Neighbors" is not the typical, light-hearted comedy. The storyline, at times, feels uncomfortably provocative, completely uncensored and raw. Neighbors targets a mature crowd, especially those who can relate comfortably to sexual references, vulgar language, and extremely stereotypical jokes.
The writing, direction and acting, come together in a positively beautiful way. Every aspect of this production shines profoundly, both on and off stage.
The show's writer, Branden Jacobs-Jenkins, is the winner of the "Princess Grace Award," the "Dorothy Strelsin Playwriting Fellowship," and received a fellowship in playwriting from the New York Foundation for the Arts. It is absolutely understandable why Jacobs-Jenkins receives praise as a play writer. He brings nothing but expertise to the stage.
Much applause also goes to the director, Nataki Garrett, who is on "The Performance Faculty and is the Co-Head of Undergraduate Acting at California Institute of the Arts where she received her MFA in directing." Garrett does an outstanding job in bringing this story and cast together.
And, every single actor in "Neighbors" adapted to their roles so intensely and cleverly that it was pure magic to watch. Keith Arthur Bolden, Leith Burke, Julia Campbell, Baadja-Lyne, James Edward Shippy, Rachae Thomas, Daniele Watts, and Derek Webster are the 8 artists who grace the stage. Although they portray fictional characters, I never once felt like I was watching a scripted play. The dialogue, the timing, and the pace of the play were perfect. Yes, perfect.
I was particularly impressed with the actor Julia Campbell. I left the theater constantly thinking about her role and what she brought to the production. Campbell displays every single emotion; happy, sad, angry, hurt, awkward; she was not just reading lines. Campbell conveys the feeling of every word spoken. She enhances real truth to every speech, every laugh, and every cry. Julia Campbell's performance is nothing shy of excellence.
If you would like to see a production with fantastic writing, directing, acting, and experience a great theater on top of it. Neighbors runs through October 24th, 2010 at the Matrix Theater, located in the heart of Hollywood
For more information, visit:
www.plays411.com/neighbors
Location: The Matrix Theater
7657 Melrose Ave, Hollywood, CA 90046
(Between Fairfax & La Brea, at Stanley)
Parking: Street parking near the theater
Tickets: $25
Reservations: (323) 960-7774
www.plays411.com/neighbots

Remember, all the world's a stage.