Thespian Thoughts Kristina Nikols reviews O(h)

O(h): Theater, dance, singing, and improv combine in this fast-paced show full of rhythm and humor.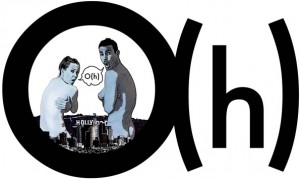 Mobile version
[flv]/wp-content/videos/40_Thespian_Thoughts_Oh.flv[/flv]

You don't have to be a dancer to enjoy Liz Casebolt and Joel Smith in "O(h)"—their two-person show that makes fun of the dance world. Theater, singing, dance, and even improv combine in this fast-paced, one hour show full of rhythm and humor. Speaking directly to the audience, Casebolt and Smith share an endearing rapport that drives the piece from beginning to end. I was especially captivated by their smooth improv sequence that had me wondering, "Are they really improvising?" It was fun seeing them choreograph a humorous dance piece that tied in the very items they were making fun of.

The futuristic set design by architecture team, Hadrian Predock and John Frane is sleek and simple. Colored neon wires are strategically placed in the black box theatre to highlight the dancers movements optimally.

"O(h)"plays at The Actors Company Theatre in West Hollywood until February 19th. For further information, please scroll below to see all the details.
I'm Kristina Nikols with Thespian Thoughts on Actors Entertainment. See you at the theatre!

WHO:
O(h) is Written and Performed by Casebolt and Smith (Liz Casebolt and Joel Smith)
Scenic Design by Predock_Frane Architects
WHEN:
Performances: January 13 through February 19:
Fridays @ 8 pm: Jan. 13 (Opening), 20; 27; Feb. 3, 10, 17
Saturdays @ 8 pm: Jan. 14, 21, 28; Feb. 4, 11, 18
Sundays @ 5 pm: Jan. 15, 22, 29; Feb. 5, 12, 19
WHERE:
The Actors Company Theatre
916a N Formosa Ave
West Hollywood, CA 90046
HOW:
800-838-3006 or www.caseboltandsmith.com
Join us on Facebook at www.facebook.com/caseboltandsmith
Follow O(h) on Twitter @caseboltsmith
TICKETS:
General admission: $30
Students and Seniors: $22
Thespian Thoughts is a review show on Actors Entertainment, a channel of the Actors Podcast Network, a Pepper Jay production.