Thespian Thoughts – Ghost in the House: The Life and Times of Jack Johnson – Theatre Review by Sandro Monetti
Ghost in the House: The Life and Times of Jack Johnson – "Boxer's story is a real knockout"
– Theatre Review by Sandro Monetti

You might know Jack Johnson as boxing's first African American world heavyweight champion but as this riveting play reveals, he was so much more than that.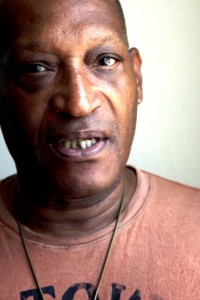 Johnson was also a race car driver, a bullfighter, a musician, a jockey, a notorious lothario and supposedly a secret agent too.
He was also an incredibly divisive figure and the subject of condemnation from both sides of the racial divide.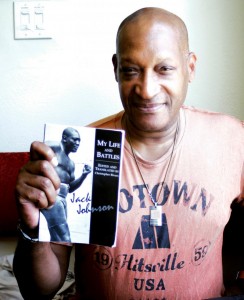 Such a fascinating figure deserves a fascinating play and now he has it in this knockout one man show which charts his wild story.
Tony Todd, best known for the creepy Candyman films, is terrific, utterly real and wonderfully watchable as Johnson.
The multi-media production is directed with real verve by Frank Megna, a one time boxer himself, and helped by a brisk, witty and poignant script co-written by Megna and Ghostbusters actor Ernie Hudson.
Ghost in the House just ended a brief run at Hollywood's Working Stage Theatre but will be performed again soon at cultural and educational institutions ahead of an anticipated New York production.
Ghost in the House: The Life and Times of Jack Johnson
An Opening Minds Production
Starring Tony Todd as Jack Johnson
Directed by Frank Megna
Written by Frank Megna and Ernie Hudson
Reviewed at the Working Stage Theatre
1516 W Gardner Street, West Hollywood, CA 90046.
---
Photo of Sandro Monetti by Dawn Bowery from the book California Dreaming: Brits in LA Book
Thespian Thoughts is a theatre review article on Actors Entertainment, a channel on the Actors Podcast Network, a Pepper Jay Production.