Theatre Review: Six Degrees of Separation
[flv]https://actorsreporter.com/wp-content/videos/10_ThespianThoughts_6Degrees.flv[/flv]
Six Degrees of Separation

We are all separated by six people in this world….
Hello and welcome to Thespian Thoughts. Your Thespian Thoughts reviewer, Judith Jones, shares with you a guide to all the latest and greatest small theatre going on in Los Angeles, California.
This episode, Judith takes you to the Westchester Playhouse, for The Kentwood Players rendition of 'Six Degrees of Separation' by John Guare. This witty tragicomedy, explores 20th century society, human relationships, and what really drives people: the desire for money, fame, social standing, comfort and a yearning for meaningful human connection. Guare bases the premise of the play around a young African Amercian man who gains access to the homes of upper class New Yorkers by pretending to be the son of Sydney Poitier. The play uses imaginative and intelligent scenes to create a picture of a fragmented society, exploring the simple fact that "everybody on this planet is separated by only six people. Six degrees of Separation…It's a profound thought….How every person is a new door, opening into other worlds."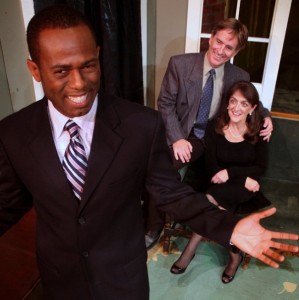 A special mention has to go to the outstanding performance of Joanna Churgin, playing Ouisa Kitteredge, an Upper East Side Art Dealer, who drives the play with strength and compassion. We are taken on a rollercoaster of emotions and betrayal with Willie Daniels performance of Paul. The emotional ride he takes us through is compelling and has to be one of the most exceptional characters Ive seen on stage, throughout my theatre going days here in LA.
Fabulous Fashion: Judith shakes things up a little and gives the Fabulous Fashion award to the wonderful actor who definitely shows us that less is more. Yes, he dazzles us with full frontal, nudity when Paul is caught in an unsavoury situation. As you can guess, this is a family show so we can't show you any pictures, but we do give a thumbs up to this man's courageous acting chops. Well done!
Phantastic Phrase :
"Sleeping with you is like sleeping with a Salad with a bad dressing"
Six Degrees of Separation
Directed by Don Schlossman
Produced by Meredith M Sweeney & Jordan Bland
January 8th-February 13th 2010
SYNOPSIS
"Six Degrees of Separation" refers to the idea that, if a person is one step away from each person they know, and two steps away from each person who is known by one of the people they know, then everyone is at most six steps away from any other person on Earth. The term was popularized by playwright John Guare's intriguing, insightful exploration of celebrity and the games we play to elevate our significance.
Westchester Playhouse
8301 Hindry Ave, LA CA 90045
(310) 645-5156
112 Seat Venue
www.kentwoodplayers.org
"All the World's a Stage"