The Stevie D. Show with Shang the Comedian
SHANG the Comedian, a transplanted New Yorker whose carefully nurtured evolution from stand-up comedy to socio-political satire gives heavy flight to the spoken and outspoken word. The Famecast Comedy Winner, SHANG has been seen on CBS'S THE LATE LATE SHOW, 2 BET'S COMIC VIEW SPECIALS, STARZ 1ST AMENDMENT, ABC'S COMIC'S UNLEASHED, NBC'S "HEROES", CBS'S "CSI" " "NCIS" QUE' LOCOS, & COMEDY CENTRAL. Also this fall you can see him on the new show "Kamkazee Comedy" On FUELTV. With 1.8 million sign ups thru his website, will continue to rise to the top of the comedy ranks with high-profile acting & televised stand up & personal appearances "This guy kills, leaving the audience rolling!"-DVD VERDICT
The LA TIMES says "Provocative, Edgy, Political and Extremely Funny".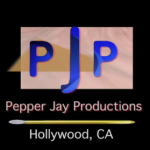 The Stevie D Show is a Live Chat Show on Actors Entertainment, a channel on the Actors Podcast Network, a Pepper Jay Production.