The EZ Show with Actors Cedric Sanders and Reatha Grey
Riveting, Remarkable, Refined, Refreshingly captivating are all words we can use to describe Cedric M. Sanders. Born in Anchorage, Alaska, raised along with two brothers and one sister, Sanders says ´ I was going to be a singer; I was going to be like Usher or somebody." until his high school drama teacher heard him sing the national anthem at a school pep rally and offered him the lead role in the school musical. With his new found love, Sanders had the confidence and talent it took to earn a full scholarship to The University of Alaska Fairbanks Summer Fine Arts Camp which helped him decide to pursue acting as a career and a star was born.
Equipped with dashing good looks and armed with an intelligence befitting of his stellar upbringing, Cedric graduated from Howard University with a BFA. The talented young Sanders got his first break in the Sundance Film Festival hit 'The Ten" starring Jessica Alba and Paul Rudd. His next roles came quickly afterwards when he landed a supporting role in "American Gangster" opposite Academy Award Winner Denzel Washington. At this time Sanders decided to move to Hollywood for better opportunities in film and television.
A flurry of films rapidly ensued; including a lead role in the inspired by a true story portrayal of Richard Kelly in "The Least Among You" which also stared Oscar winner Louis Gossett Jr. Sanders received the Best Actor Award at the San Diego Film Festival for that performance. A supporting role in David Fincher's critically acclaimed Oscar nominated film 'The Social Network" led to the Indie car racer drama "Rocksteady" and "All Things Fall Apart" the compelling drama starring Curtis "50 Cent" Jackson.
On the small screen Cedric has lent his talent to multiple hit television shows like Law&Order, Law&Order: SVU with Emmy nominated actor Andre Braugher, "Life Support" with Queen Latifah and many more. No stranger to the stage, Sanders also won the NAACP Best Actor Award for his performance in the Play production "A Matter Of Honor". This year Cedric continued his penchant for the stage in the Broadway historical musical "The Scottsboro Boys" at the prestigious Ahmanson Theatre in Los Angeles. Currently you can catch Anchorage Alaska's favorite offspring Cedric Sanders in his series regular role of 'Latrell' on the new ABC drama "Mind Games" opposite Christian Slater and Steve Zahn.
Reatha Grey, one of the hip, sexy, ready to party senior pranksters starring on the NBC hit series Betty White's Off Their Rockers, was born in Los Angeles, California. Her father was a dentist and her mother worked as a social worker and elementary school teacher. Grey enjoyed a comfortable middle-class childhood graduating from Los Angeles High School. She went on to graduate from Los Angeles City College, majoring in Theater Arts.
After touring East Asia with the USO in 1974, Grey began her professional show business career appearing in television series and movies such as Three's Company, General Hospital, and Angel Dusted. She also starred in the black exploitation cult classic Soul Vengeance. Dozens of rolls on television, screen, and stage later, Grey owned and operated the Grey Images Extra Casting Company for almost a decade in the 1980's, supplying background talent for television and films including Baby Boom and The Fabulous Baker Boys.
Grey retired from show business in 1991 and went on to serve as a chaplain at the Los Angeles Mission for 8 years. She has also traveled as a missionary to Nicaragua, Kenya, Uganda, Ghana and the Bahamas.
Returning to acting in 2007, Grey can be seen starring in the 2011 film Walk by Faith II: After the Honeymoon, available on DVD, the television pilot My Life in Punchlines, and co-starring on the cable series The Protector and The Newsroom. She has also been spotted doing stand-up at comedy clubs around Los Angeles.
The WTV Network / Eric "EZ" Zuley
The EZ Show is co-produced by Pepper Jay Productions LLC and Eric Zuley.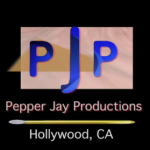 The EZ Show is a Live Chat Show on Actors Entertainment, a channel on the Actors Podcast Network, a Pepper Jay Production.