Talent Agent Zina Fernandez Guests on ActorsE Chat with Host Kim Delgado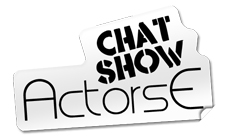 Zina Fernandez became a SAG agent in 2011, presently working with Xpose Talent Agency. Being an agent was her dream career. She loves surrounding herself with passionate, original and driven actors, dancer, singer…etc. This business has been her family endeavor (Robert DoQui http://www.imdb.com/name/nm0233306/ , for many years. She knows how hard it is for an actor to find their place in this business. Zina is here to help them on that journey. She moved to Los Angeles in 1997 from New Orleans, leaving behind a Beauty Salon Business. Zina a licensed Cosmetologist since 1985, with a Business degree.
Please contact Zina Fernandez via email: ZFernandez@xposeinc.com
Kim Delgado IMDB

ActorsE Chat is a Live Chat Show on Actors Entertainment, a channel on the Actors Podcast Network, and this episode of ActorsE Chat is co-produced by Pepper Jay Productions LLC and Live Video Inc, with PR-Marketing-Sales by Live Video Inc.