Singer Songwriter Maggie with host Ric Drasin on ActorsE Chat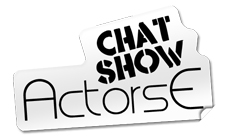 As a Canadian pop powerhouse and YouTube Sensation that has won audiences over worldwide with over 13 million views on YouTube and Vevo, it's of no surprise that Maggie Szabo went from a small town girl from Ontario, Canada to an artist in her own right crafting a sound all her own in Los Angeles.
Maggie began honing her singing and writing craft at a young age in her hometown of Dundas, Ontario by performing and exploring as many opportunities as she could. Immediately after graduating from high school, she then decided to pack her car and drive to Nashville to further explore her songwriting capabilities.
While living in Nashville, Maggie ended up creating a fresh sound infused with soulful pop melodies. Inspired by her surroundings and experiences in the music mecca of America she strengthened her songwriting craft and performing skills and was offered a record deal with Linus Entertainment in Ontario.
In November 2012, she released her debut pop album "Now Hear Me Out" (Linus Ent/ eOne). All original songs on her album were co-written by Maggie with production by Justin Gray (Joss Stone) and Gavin Bradley (Nelly Furtado) and Tanya Leah.
After releasing her debut single "Lovesick" to heavy rotation across Canadian airwaves, Maggie was named as Bell Media's Emerging Artist and was personally chosen by famed blogger Perez Hilton as his "Can YOU Sing?" contest winner that beat out thousands of singers as he hailed Maggie as the next big superstar.
With an online fan-base growing by the thousands monthly and a social media following that tops some of the nations most established pop artists, Maggie has proven to be a star on the rise that used the power of social media to deliver original songs online to her dedicated fans.
Since spending time in LA, Maggie has gained exposure from playing all original new music to sold-out crowds at the infamous Viper Room, House of Blues, Molly Malones and famed venue the Hotel Café.
On February 8th, Maggie is releasing her highly anticipated music video to accompany her brand new single "Tidal Waves and Hurricanes" that is available on iTunes now with a live show and video screening at Hotel Café in LA.
Constantly creating, writing and evolving, this Canadian chanteuse has been hard at work on new music and is gearing up to start the next exciting chapter of her musical journey with a new album, new sound and new outlook.
Thank you Announcer / Voice Actor Jordan Farelli.

ActorsE Chat is a Live Chat Show on Actors Entertainment, a channel on the Actors Podcast Network, a Pepper Jay Production.