Singer Songwriter Actress Ariel Fournier and Actress Host Cerris Morgan-Moyer on ActorsE Chat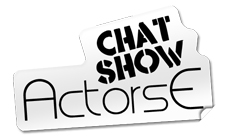 Ariel is a Los Angeles based pop artist and actress.
Her latest video, "AMERICAN HERO", is wonderfully patriotic ballad about the steadfast love children have for their family and friends who serve in the military. With images of fathers returning to their sons, daughters solemnly accepting of a parent lost during service, set against the windswept backdrop of the Mojave desert, "AMERICAN HERO" is a must-see video for our men & women in uniform, their families, and friends.
Ariel grew up in a small beach town on the Gulf Coast of Florida. Her music is pop, but she likes to bring in influences from reggae and other genres. She enjoys experimenting with new sounds and wrote all of the songs on her CD, Unexpected.
Summertime was written about her hometown where everyone has "a Jimmy Buffet Vibe," It has a fun beach feel to it. Rasta Life does as well with themes of not taking life too seriously and living life free and easy. Enjoy the Unexpected! I Came to Dance will make even the most timid want to jump up and jam out!
She loves performing and supporting charities and often does performances to benefit St. Judes Children's Hospital, Special Operations Warrior Fund, Cystic Fibrosis, and the Fisher House.
She also keeps busy in the acting world having appeared on TNT's primetime drama, Perception, opposite Eric McCormack, Disney 365, and has worked on the Yamaha watercraft photo shoots and commercials for the past 12 years!! Every Sunday on Universal Broadcasting Network she hosts a radio show called The Music Project, which introduces up and coming independent artists and keeps you up to date on Music News and Concert Reviews. She sure loves having her hands in everything!
Cerris Morgan Moyer's Website

ActorsE Chat is a Live Chat Show on Actors Entertainment, a channel on the Actors Podcast Network, and ActorsE Chat produced by Pepper Jay Productions, with PR-Marketing-Sales by Live Video Inc.