Sidebeat Music – teen actress (Hart of Dixie) and recording artist Claudia Lee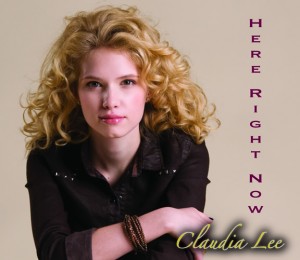 Teen actress and recording artist Claudia Lee (Magnolia Breeland on CW's "Hart of Dixie," with her country music debut album "Here Right Now.
Mobile version
[flv]/wp-content/videos/38_SideBeat_Music_Claudia_Lee.flv[/flv]
Enjoy the interview with Claudia Lee and footage of her rehearsing with her band and her producer Max DiCarlo, preparing for her album release concert in Nashville.
Claudia Lee is a talent and a delight. What a pleasure!!
Claudia Lee's debut album:
"HERE RIGHT NOW"
3 Leaf Clover
Every Single Fight
Here Right Now
Hollywood Sunset
Home At Last
I Want To Be Your Friend
It Gets Better
Old Man
Papa's Song
Pave The Way
Take My Hand
Trading For Fun




Hart of Dixie photo credit:
Warner Bros. Television Entertainment/Scott Alan Humbert © 2012 WBEI. All rights reserved.
Fred Anderson
Publicist for Claudia Lee
FAndersonMedia@aol.com
For information about Claudia Lee visit
www.ClaudiaLeeLive.com
Sidebeat Music is a show on Actors Entertainment, a channel on the Actors Podcast Network, a Pepper Jay Production.