Sidebeat Music Exclusive Interview with Singer Songwriter Guitarist Justin Foutz 2010 Los Angeles Music Awards "Country Artist Of The Year"
Exclusive Interview with Singer Songwriter Guitarist Justin Foutz
2010 Los Angeles Music Awards "Country Artist Of The Year"
Jusin Foutz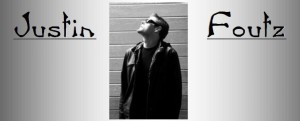 Exclusive Interview with Singer Songwriter Guitarist Justin Foutz, Part 1
[flv]/wp-content/videos/18_Sidebeat_Justin_Foutz_Part_1.flv[/flv]
Exclusive Interview with Singer Songwriter Guitarist Justin Foutz, Part 2
[flv]/wp-content/videos/18_Sidebeat_Justin_Foutz_Part_2.flv[/flv]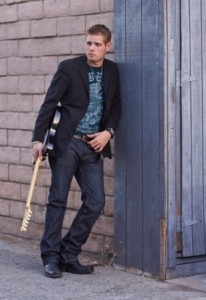 Justin Foutz is a 26-year-old singer, songwriter and guitar player born in Indianapolis, Indiana. At 10 years old, Justin picked up a Kay guitar and began to learn his favorite song, Richie Valens-"La Bamba". Natural talent and persistence paid off and by the age of 12, he got to perform "Hotel California" by the Eagles with John Mellencamp's band at a private party for the Indianapolis Colts owner, Jim Irsay. From the age 15-17, Justin switched to drums and joined up with a local band, Green Bean Transplant from Indiana. Although the drumming position was fun, he was coming to grips at the young age of 16, that he wanted to be front and center.
In 2002, Justin went to Southern California to vacation with his father. While on vacation, Justin found himself bored with the summer sun. To take his mind off his boredom, he put a band together to play some local gigs. The search for California musicians with the same influences, such as Travis Tritt, Keith Urban, Little River Band, Brad Paisley and Stevie Ray Vaughan came very easily.
Hearing Justin rehearsing in his garage, a neighbor quickly introduced him to Rich Modica, long time production manager, guitar tech for Brian Setzer, The Wallflowers and many others. Justin and Rich spent many hours talking about music, business and guitars. Once they realized that they where both on the same musical page, they decided to sign a management deal and things began to move forward. In 2004, at the age of 20, Justin got a chance to show his lead guitar skills to the country music world, when he went on tour with country artist, Chris Richards-Tumblers and Grits tour. Not long after returning from tour, Rich (band manager) invited twice-Grammy nominated producer, Dave Darling (Brian Setzer, Meredith Brooks) to one of Justins shows. The following day, they where in the recording studio knocking out five songs. The lead off song Mr. Know It All comes out of the chute with confidence and pure attitude, sure to be a radio favorite. The instrumental song Crash and Burn is a smokin guitar song, that brings every live audience to their feet and then knocks them on their rears. Truly amazing.
Justin may be young, but when you hear his voice you will soon realize that his soul is that of a seasoned veteran. His energetic mix of country, blues and rock will make a fan out of anyone who enjoys great music.
Justin Foutz' MySpace page: http://www.myspace.com/justinfoutz
Sidebeat Music is on Actors Entertainment, a site on the Actors Podcast Network, a Pepper Jay Production.