Romeo & Juliet Actors Nikhil Pai and Erika Soto with Host Kristina Nikols on ActorsE Chat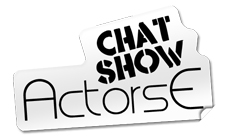 Our new adaptation of Shakespeare's tale of adolescent bliss spinning out of control is actor-driven, athletic and whimsically staged.
Erika Soto is proud to be performin in the ISC Studio again this season. Previous productions with the company include "She Stoops to Conquer," "Red Barn," "Hamlet," and "The Winter's Tale." Some of her favorite roles include Adela in "The House of Bernarda Alba," Edie in "Into the Pines," and Vivien in the web-series "Merlin and the Machine."
Nikhil Pai is a actor, singer, director, and writer who earned his Masters of Fine Arts in acting at California Institute of the Arts, only one of Nikhil's many degrees. Nikhil's credits are numerous. A few of them include: At CalArts, Nikhil was directed by Mary Lou Rosato in "The Way of the World," Gina Belafonte in "On the QT," Bart DeLorenzo in "In the Jungle of Cities," and Julianne Just in the opera "Fairy Queen." In Los Angeles, Nikhil performed in "The Three Musketeers" at the Will Geer Theatricum Botanicum. And, after joining the Independent Shakespeare Co in 2011 and at the Griffith Park Free Shakespeare Festival, he performed in "Hamlet," "Loves Labours Lost," "The Winter's Tale," "Midsummer Night's Dream," "She Stoops to Conquer," "Macbeth," and "As you Like It." At Independent studio, Nikhil performed in "Red Barn," a new original musical.
---
Special Thank you to:
Marisa Johnston, Development & Communications Manager
Independent Shakespeare Co
ActorsE Chat is a Live Chat Show on Actors Entertainment, a channel on the Actors Podcast Network, a Pepper Jay Production.