Motivational Chat 100th Episode Jaime Kalman and John Michael Ferrari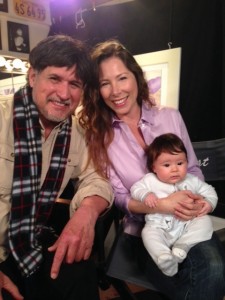 Empowerment Coach Jaime Kalman, Motivational Speaker John Michael Ferrari, and Baby Olivia celebrate 100 episodes of Motivational Chat on Actors Entertainment.
Jaime Kalman is a Certified Hypnotherapist & Empowerment Specialist helping people increase clarity & confidence, feel more powerful, have happier, deeper relationships with others, and most importantly – with themselves. Her healing practice, Inspired Healing and Awareness, was created with the intention of nurturing and inspiring transformation, authenticity, and healing in others. Jaime is the LA Intuitive Living Examiner for the online publication, Examiner.com, where she writes weekly articles about living in your highest awareness in Los Angeles. She is a certified hypnotherapist through the National Guild of Hypnotists and a certified spiritual healer through Healing in America, the US-affiliate of the National Federation of Spiritual Healers, the most prominent healing organization in Europe. She is a member of Healing in America, and is actively creating healing circles in hospitals, clinics and rehab centers in Los Angeles. She also incorporates EFT (energy tapping) in her practice, providing people relief from physical and emotional discomfort. She offers compassionate and confidential consultation, guided meditation, hands-on energy balancing, Emotional Freedom Techniques, relaxing and transformative hypnosis, and creates an atmosphere of integrity,love, inspiration and possibility. She helps her clients to illuminate the blind spots that are at the source of their issues and supports them in creating access to breakthroughs that allow for extraordinary transformation and healing in their lives.
John Michael Ferrari's Website
John Michael Ferrari is a teacher, motivational speaker, and photographer helping others, particularly young people, to find their voice in a confused world.
ActorsE Chat is a Live Chat Show on Actors Entertainment, a channel on the Actors Podcast Network, a Pepper Jay Production