Magician / Actor Albie Selznick and host Ron Brewington on ActorsE Chat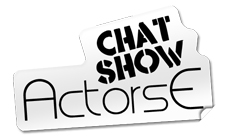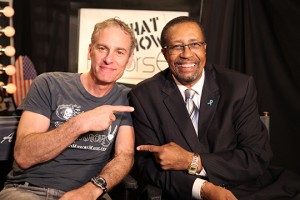 Albie was co-founder of The Mums, a popular circus/ theatre trio of the 80's/90's. The LA Times said, "The Mums do for the arts of Juggling and Magic what Elvis did for rock and roll," Andy Warhol gave them a two-page pictorial in INTERVIEW magazine, and The LA Weekly put them on their cover calling them "The Best Performance Troupe in LA". The Mums performed all over the world and opened for rock bands Devo, Berlin, and Duran Duran. Their plays, produced in L.A. and Toronto, received multiple theatre awards and were directed by Tim Robbins and Paul Sand, among others. The Mums counted among their fans David Bowie and Sting.
Today, Albie is known primarily as an actor. On television, Albie is probably best known for playing Rabbi Ben on "Suddenly Susan" and the evil D.A. Owen Pomerantz on "The Young and The Restless". He has recently guest starred such shows as "Castle", "Dexter", "Episodes", "Grey's Anatomy", "Southland", "Desperate Housewives", "NCIS", and all three "CSI"'s. In theatre he has worked with visionary Robert Wilson in King Lear. He performed opposite Glenne Headly in Detachments, produced by Beth Henley, Ed Harris and Amy Madigan. He is a member of the Road Theatre Company where he recently starred in the west coast première of The Waters Edge by Theresa Rebeck (of Smash fame).
Albie is a lifetime member of the famous Magic Castle in Hollywood.
Smoke and Mirror Magic Website
Ron Brewington Facebook

ActorsE Chat is a Live Chat Show on Actors Entertainment, a channel on the Actors Podcast Network, and this episode of ActorsE Chat is co-produced by Pepper Jay Productions LLC and Live Video Inc, with PR-Marketing-Sales by Live Video Inc.


Live Video, Inc. has strategic partners all over the world, including Pepper Jay Productions LLC, and for this reason they are able to offer some of the best solutions to our partners and friends. Whatever the size and scope of your project, you will need professional consulting to assist in making your creative vision come to life. Live Video, Inc. wants to make that transition seamless for you offering you everything from inception to completion to assist you in your creative vision. Check out all of the solutions at Live Video Inc!