Lisa Harris and Blake Adams (Evolution of Circles) and Actress Host Cerris Morgan-Moyer on ActorsE Chat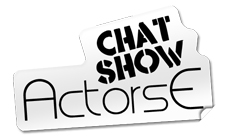 Circles Synopsis–
Circles serves up an incendiary tango between the anima and animus. In the play, a woman waits for her lover in the apartment that they share. When he returns, their lives change forever, leading them to play that all-too-familiar game between men and women. In the piece, they volley back and forth in the ultimate match, grappling with the unsolvable puzzle of life's most complex challenge: Love.
Will the pair last the night? Can passion sustain their partnership? Or will one text message cause their universe to collapse? Circles flirts with the fundamental mysteries of human connection. It explores what it is to be understood and to understand. It asks: Are men and women fundamentally different? And: Can we truly find common ground with another?
Lisa Harris, Writer & Actor –
Lisa Harris has worked in the theater for over 20 years, as actor, playwright, and producer. She has appeared in numerous productions both off and off-off Broadway, and has written and produced her own pieces. She has also served as producer for a number of plays, including the OBIE Award-winning hit, Mabou Mines DollHouse, which she also appeared in. Directed by Lee Breuer, it was developed at the Sundance Theater Lab before opening at St. Ann's Warehouse in Brooklyn, NY in November 2003. Following its NYC run, Mabou Mines DollHouse began a world tour, first performing at the Ibsen International Stage Festival in Oslo, Norway. It went on to be performed for several additional years in the U.S. and around the world. The piece was most recently performed at The Kennedy Center in Washington DC. In her work, Harris is particularly interested in exploring the roles of men and women and how they relate to each other in contemporary life.
Blake Adams, Actor –
Blake Adams is an actor, producer, and screenwriter from Pasadena, CA. In series television, he landed numerous roles on prime time shows including Criminal Minds, Burn Notice, CSI: Crime Scene Investigation, Desperate Housewives, Six Feet Under, Walker Texas Ranger, The Magnificent Seven, and The Adventures of Brisco County Junior, among others. In daytime television, he appeared on Days of Our Lives, The Young and the Restless, The Bold and the Beautiful, and Sunset Beach. Film roles have included performances in Stay Cool (2009), Highway 395 (2000), Shades of Grey (1997), and Head of the Family (1996). Adams also acted in, assistant directed, and produced the award-winning short film Silent Radio (2007). In theater, he has appeared in Goodspeed Opera House and the Hollywood Fringe Festival productions.
Cerris Morgan Moyer's Website

ActorsE Chat is a Live Chat Show on Actors Entertainment, a channel on the Actors Podcast Network, and ActorsE Chat produced by Pepper Jay Productions, with PR-Marketing-Sales by Live Video Inc.