Kristina Nikols, Thespian Thoughts Host, reviews Beyond Dark: The Best of Theatre in the Dark
Mobile Version
[flv]/wp-content/videos/47_Thespian_Thoughts_Theatre_in_the_Dark_Kristina_Nikols.flv[/flv]

BEYOND DARK: THE BEST OF THEATRE IN THE DARK
Review by: Kristina Nikols
"Beyond Dark: The Best of Theatre in the Dark" combines the best of two shows, "Dark" and "More Dark" from the Odyssey Theatre's two evening festival of short plays. The 90-minute show takes place completely in the dark. Comprised of 17 pieces by various authors, the show takes the audience on a series of many journeys–from horror, to death, and even sex and comedy. The 12-member ensemble does an excellent job bringing each piece to life.
The unique nature of the event's staging lends itself most successfully to the horror pieces. Sitting in a pitch-black theatre while madness and terror plays itself out within earshot taps into our shared primitive past where the night held so much danger and threat. The visceral experience heightens the overwhelming sense of fright and leaves the audience very uncomfortable. "Tell-Tale Heart," written by Edgar Allen Poe and Directed by Ron Sossi, is simply captivating. Cary Thompson, who plays The Murderer, terrifies and rivets with his creepy voice and physicality (made visible by just a hint of light).
Beth Hogan enthralls with her delivery of "A Story" and "A Happening," as the former frightens with ghost stories from the venue itself and the latter serves as a delightful (and yummy) mid-show break. "La Llorona," written by Dorothy Fortenberry and directed and acted by Denise Blasor, and the closing "Dancing in the Dark," with Alan Abelew and Sheelagh Cullen, are both moving. Sound Designer, John Zalewski superbly uses the 8-channel surround sound system to create realistic and unique sounds that completely immerse the audience in the reality of each piece.
Sitting for 90 minutes in the dark can be a bit long, but it is, nevertheless, an exquisite experience of emotions and senses. I highly recommend "seeing" the show.
"Beyond Dark: The Best of Theatre in the Dark," plays until February 9, 2013. Please visit their website and scroll below for additional details.
BEYOND DARK
Written By: Freidrick Durrenmatt, Dorothy Fortenberry, Ernest Kearney, Lynn Manning, Anna Nicholas, John O'Keefe, Edgar Allen Poe, Danny Robins & Dan Tetsell, Ron Sossi, Matei Viesnec, and the Theatre in the Dark acting ensemble.
Directed by: Jeremy Aluma, Denise Blasor, David Bridel, and Ron Sossi
PRODUCTION:
Dramaturg: Sally Essex-Lopresti
Sound Design: John Zalewski
Scenic Design: Simon Schabert
Lighting Design: Kathi O'Donohue
Properties Design: Katherine S. Hunt
Assistant Directors: Joe DeSoto and Vesna Hocevar
Stage Manager: Josie Griffin-Roosth
Graphic Designer: Fred Baxter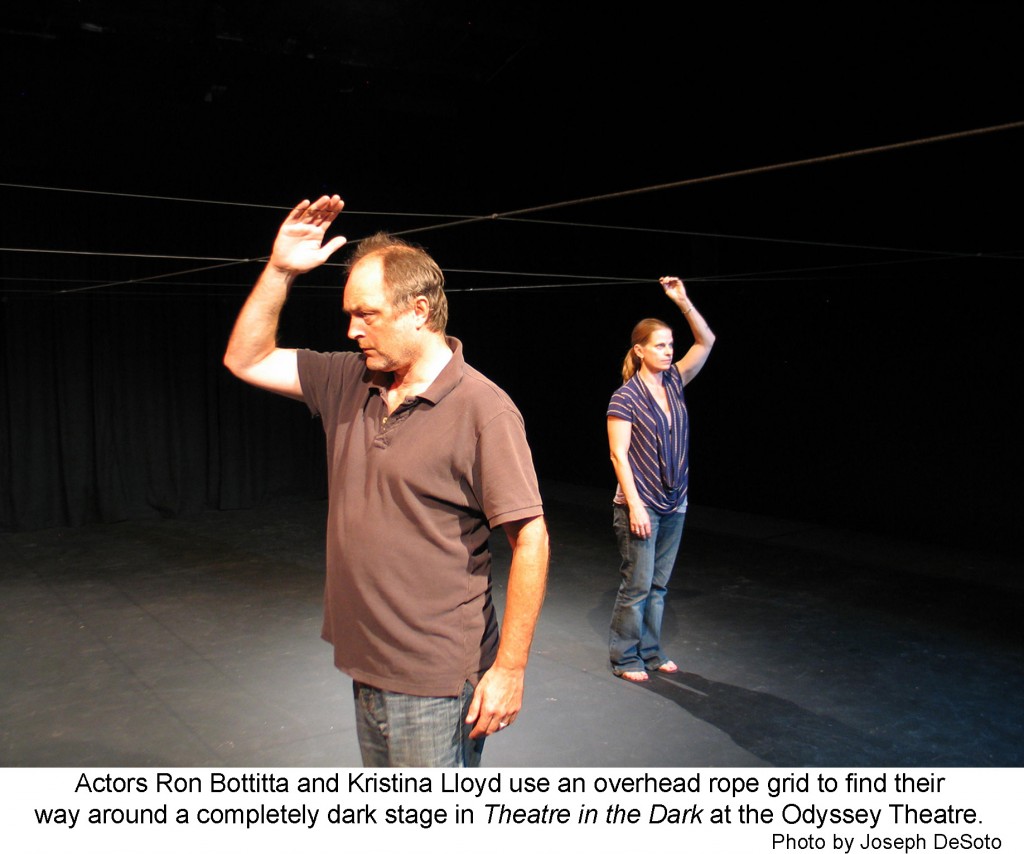 CAST:

Alan Abelew*
Marcia Battise*
Denise Blasor*
Ron Bottitta*

Sheelagh Cullen*
Jean Gilpin*
Beth Hogan*
Kristina Lloyd*
Anna Nicholas*
Cary Thompson*
Terry Woodberry
*Member of Actor's Equity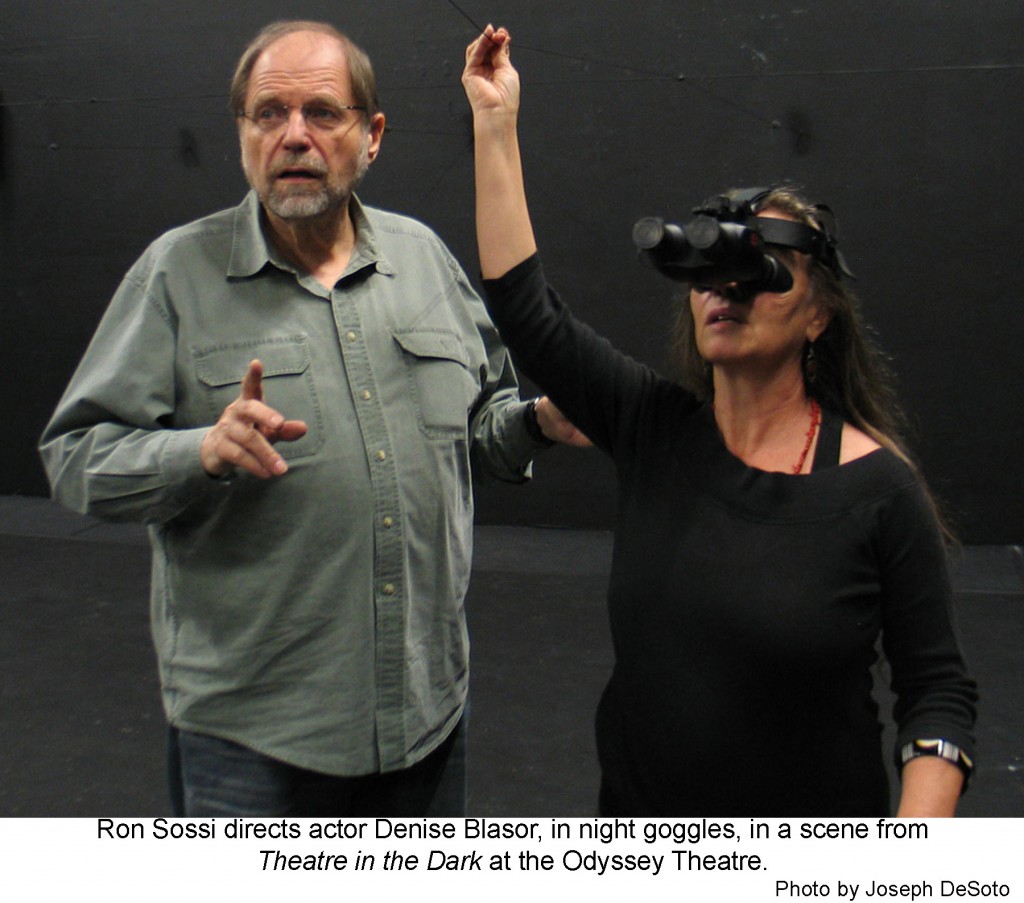 WHERE:
The Odyssey Theater
2055 South Sepulveda Blvd.
Los Angeles, CA 90025
WHEN:
January 5, 2013 – February 9, 2013
Fridays and Saturdays at 8 pm
Sundays at 2 pm
TICKETS:
Fridays: $25
Saturdays and Sundays: $30
Students and Equity/SAGAFTRA: Fridays $15
RUNNING TIME:
90 minutes, no intermission
PARKING:
$3 parking in lot, free parking on side streets
CONTACT:
Reservations: 310-477-2055, ext. 2
www.odysseytheatre.com
Thespian Thoughts is a show on Actors Entertainment, a channel on the Actors Podcast Network, a Pepper Jay Production.