Humanitarian EJ Jackson on The EZ Show with The EZ Way Angels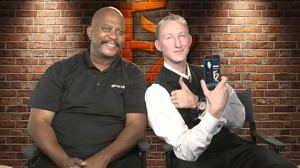 In November, if you called EJ Jackson "Mr. Turkey," the name would fit and everyone would agree to the labeling. Mr. Jackson is not only the founder and president of Jackson Limousine Service, a successful company in Los Angeles – known as the "chauffeur to the stars" – he's a man with a tremendous heart. For years he's given away a turkey, with all the fixings for a full Thanksgiving dinner, to thousands of the needy in Los Angeles.
JACKSON LIMOUSINE SERVICE has been in business for over 25 years serving the Los Angeles tri-county area. We set the standard for excellence in chauffeured ground transportation, and we serve California's entertainment and corporate industries. Located in the heart of the city, we take great pride in not only offering unparalleled superior service, but also giving back to the community.
Jackson Limousine
5917 West Boulevard
Los Angeles, California
(800) 522-9955
Fax: (323) 291-2669
Enjoy our EZ Way Angels: Sonia Harley and Stephanie Panisello.
The EZ Show is co-produced by Pepper Jay Productions LLC and Eric Zuley.

The EZ Show is a Live Chat Show on Actors Entertainment, a channel on the Actors Podcast Network, a Pepper Jay Production.