Emily Grand (Surprise Surprise Bake Shop) with Host Peggy Sweeney-McDonald on Savoring the Sweetness

Emily took naturally to helping her Mom bake in the kitchen from a young age. Her passion for baking and eating sweet things continued, and while in grade school, friends could always count on her to make their birthday cake. Emily began her career as a model at the age of 18, but her passion remained baking. The flexible schedule left her lots of time to perfect her recipes and experiment with tasty new ones, and the travel gave her exposure to different cuisines. Dreaming of cupcakes, donuts and pastries galore, she has always hoped to one day have a bakery of her very own. Why? To bake treats, of course to eat treats, and to see the joy her baked delights bring to others.
Peggy Sweeney-McDonald's Website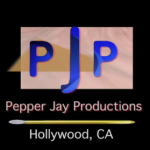 Savoring the Sweetness is a Live Chat Show on Actors Entertainment, a channel on the Actors Podcast Network, a Pepper Jay Production.