DeziStyle today! – 10 Trails in L.A. That'll Work Your Booty!
DeziStyle syndicated on Acting in Style for Actors Entertainment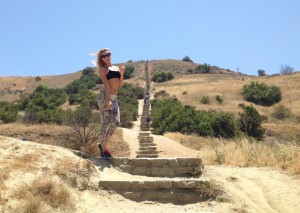 Don't underestimate the effectiveness a hiking trail can have on your health. Hiking isn't only one of the trendiest things you can do in LA, it's also one of the best workouts you can get – for your booty and the rest of your body. Imagine a gym: four walls, heavy machinery and bad music blaring over the speakers. Now imagine yourself on top of a mountian, wind blowing in your hair and the feeling of triumph as you gaze over the horizon. Which sounds better? I thought so.
Los Angeles has some great hiking options throughout the city. Here are my favorites:
1. Temescal Canyon – 15900 Pacific Coast Hwy, Pacific Palisades, CA 90272
This is my go-to hiking trail. It's a great combination of uphill and downhill (great for the glutes) with some pretty spectacular views of the Pacific ocean. There are plenty of grassy areas and a park where one can picnic, rest or do cartwheels (as I do) at the bottom of the hill. The bonus: Parking in the designated lot at the beginning of the trail will cost you $7 but there's always free parking on Temescal Canyon Road, just before Sunset Blvd. Plus, you're just a moment's drive away to the beach!
2. Murphy Ranch Trail – Capri Drive & Casale Road, Pacific Palisades, CA 90272
This can be a great workout if you know what you're looking for. There is a stairway that descends about 500+ steps down to yet another trail which will eventually lead you to an old, deteriorating Nazi compound from the 1930′s that is now covered in graffiti. It can be tricky to find but worth the adventure.
3. Culver City Stairs – 6300 Hetzler Road, Culver City, CA 90232
Nature's stair master. If the views from the top don't satisfy you, maybe all the delectable spots to dine in around downtown Culver City will.
4. Santa Monica Stairs – 4th St & Adelaide Dr, Santa Monica, CA 90402
Not technically a hike but it's a guaranteed way to feel the burn.
5. Griffith Park – 4730 Crystal Springs Dr, Los Angeles, CA 90027
If you spent the day hiking through this park you might have come across equestrian trails, playgrounds, the LA Zoo or the Greek Theater. There's much to see and do here, hiking is just one of them.
6. Fryman Canyon Park – 8401 Mulholland Dr, Studio City, CA 91604
This is one of the more leisurely hikes of the ones listed here but still a great workout nonetheless. Try running the course or adding weights if you find it to be unchallenging.
7. Runyon Canyon – 2000 N Fuller Ave, Los Angeles, CA 90046
Even if you're not an LA local, you've probably heard of Runyon Canyon mentioned before. It seems to be one of the more popular trails in all of Los Angeles for a few reasons, although some may not be as obvious as others. Despite the attraction of seeing celebrities or it's breathtaking vantage points, it actually is an incredible workout, especially if you opt for the non-paved route. *A friendly tip: to avoid crowds or the unpleasant smells of dog "business", try hitting the trail in the early mornings or later in the evenings.
8. Will Rogers – 1501 Will Rogers State Park Rd, Pacific Palisades, CA 90272
This was my original go-to hiking spot when I first moved to L.A. The length of the trail is doable for even the most inexperienced hikers but offers some great booty burning paths. Enjoy views of the ocean and the occasional UCLA athletes. ????
9. Franklin Canyon Park – 2600 Franklin Canyon Dr, Beverly Hills, CA 90210
Many Angelenos aren't aware of this hidden gem in the middle of Beverly Hills. It's a peaceful 605-acre park that includes 5 miles of trails. picnic areas and a lake filled with ducks. Great for a daytime date!
10. Abalone Cove Shoreline Park – 5970 Palos Verdes Dr S, Rancho Palos Verdes, CA 90275
A bit more of a drive for those living in or close to central L.A. but well worth it. Abalone cove sits at the bottom of a cliff, accessible only to those who dare make the decent down to its two beaches and picnic areas. Try working your way down and back up again as many times as your legs will let you. I promise you'll feel the burn with this one if you give it a chance.