Chef Ken Novack – Savoring the Sweetness – Peggy Sweeney-McDonald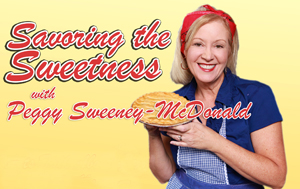 Ken Novack is the President of Citron Catering in Los Angeles. With his wife, Sarah Silver-Novack, Citron Catering is fueled by over 12 years of extensive food service experience. Citron Catering was established to fill a void in the corporate catering market. By providing high-end menu options with personalized, attentive service many of the most powerful boardrooms in Hollywood became accustomed to the high standard of catered breakfasts and lunches that Citron consistently delivered. The food was so good in fact, that requests kept coming in for Citron to cater larger scale events like holiday parties, annual picnics and private cocktail parties. Citron's founder, realizing the potential, took it one step further. Not only did he ramp up operations enough to handle a 200 guest cocktail party, he created a scalable infrastructure that allows Citron to serve up passed hors d'oeuvres for 1,000 guests, as efficiently as it caters breakfast for 20 executives. Shortly after diversifying Citron's capabilities, Hollywood came knocking, and whether it was an elegant movie premiere or an edgy video game launch party Citron had the skills and experience to make it happen every time. Whatever your catering requirement needs may be, Citron's staff of knowledgeable professionals is available to discuss how best those needs can be met.
Peggy Sweeney-McDonald's Website

Savoring the Sweetness is a Live Chat Show on Actors Entertainment, a channel on the Actors Podcast Network, a Pepper Jay Production.