Brits in LA Presents The Toscars on ActorsE Chat with Knobraska Team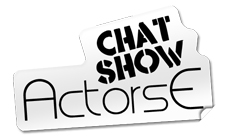 The Toscars, presented by Brits in LA, form ten teams, each of which have three weeks in which to produce a five minute short parody of a nominated film up for best feature. These will be screened at the world famous Egyptian theatre in Hollywood. A celebrity judging panel will decide upon who will win in each categories including Best Whactor, Best Whactress, Best Director (Best Boss), Cinematographer, Writer (Scribbler) Music and a few more. This has fast become one of the go to events during awards season. It's a nod and a wink to Hollywood's most famous night and a cheeky fun time is had by all.
In this years Toscars, for the film short Knobraska, John Mawson was nominated for Best Scribbler, Clement von Franckenstein for Best Whactor, and Pepper Jay for Best Whactress.
Clement von Franckenstein's IMDb
ActorsE Chat is a Live Chat Show on Actors Entertainment, a channel on the Actors Podcast Network, a Pepper Jay Production