Award-Winning Director Roxy Shih Guests on ActorsE Chat with Actor Host Josh Thrower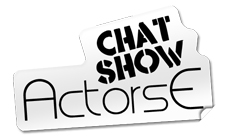 Roxy Shih is an Asian-American filmmaker born in the Netherlands. After traveling extensively with her family up until university, Roxy was able to hone in her experiences and observations from the world and recreate a world entirely her own through cinema.
Roxy's select body of work:
2015 – All is Vanity (sci-fi thriller feature) – Producer/Director (in post-productions); 2015 – The Sound of Magic (comedy musical feature) – Producer; 2015- The Reunion (horror feature) – Line Producer; 2014 – Seahorses (drama romance feature) – Producer;
Awards:Toronto Indie Film Festival Best Feature Film Award; SoCal Film Festival Best Picture Award
Official Selections include: Dances with Films Festival; SoCal Film Festival; Toronto Independent Film Festival; First Glance Philadelphia Film Festival; and LA Indie Film Festival
Roxy's short films she directed and produced include Playtime, Table for Two, and the artsy short, The Siren (The Siren, queen of the sea, uses a young man's love to gain power over land. However, mother nature has plans for punishing those who go where they do not belong – Executive Producer Pepper Jay).
Roxy also worked on
2014- Operation Marriage (drama short) – Line Producer – *Academy Qualifying Run at Laemmle Encino
2014 – "Make Some Noise" – Valentino Khan (music video/OWSLA) – Producer IMVDB Pick
2013 – Deadly Revisions (horror feature) – Producer
Roxy went to the University of California- Irvine and double majored in Sociology and Film Studies with a minor in Digital Arts. She is now living in Los Angeles doing freelance work for video and writes music on the side.
Was on a hip hop dance team for four years before pursuing filmmaking.
Josh Thrower Facebook

ActorsE Chat is a Live Chat Show on Actors Entertainment, a channel on the Actors Podcast Network, produced by Pepper Jay Productions LLC, with PR-Marketing-Sales by Live Video Inc.