American Singer Makes Top-10 In Taiwanese Idol!
[flv]/wp-content/videos/12_AE_Sidebeat_Top_10_Taiwan_Idol.flv[/flv]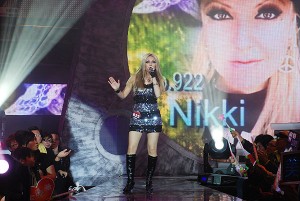 American Singer Makes Top-10 In Taiwanese Idol!

(Fu Zhou, China) – Nikki Nova, an American singer from San Diego, has qualified as a Top-10 contestant in Taiwanese Idol (officially called MN Idol). Taiwanese idol is a global competition and Nikki is competing against singers from all around the world, each of them singing in the Taiwanese language. Nikki is the very first Westerner to reach the Top-10.
Taiwanese Idol does not subscribe to the Nielson ratings but they estimate conservatively that there are over 50 million viewers tuning in to each episode and many more for the finals. Over 100 million viewers have tuned in so far. North American viewers can watch the show if they have "Dish Network" and subscribe to "The Great Wall" package.
Nikki performed at the finals on Jan. 9th, 2010 in Genting Highlands (located in the mountains about an hour from Kuala Lumpur) at the "Arena of Stars" a 6,000 seat musical amphitheater located at an outdoor theme park. Singers that have performed there include Boyz II Men, Cliff Richard, and Olivia Newton-John.
Nikki completes singing in both Mandarin and Taiwanese and was the only performer not of Asian descent in the entire competition and the only contestant from the U.S. to make the Top 20, beating out some Native Taiwanese. Nikki is not of Asian descent and does not speak any Asian language. Nikki Nova's performance coaches, Pepper Jay and John Michael Ferrari, also do not speak an Asian language. When asked what it was like to prepare a singer in an unfamiliar language, Pepper Jay said, "Performance is performance. As long as we have the translation of the lyrics and the artist has a pronunciation coach, everything should fall into place."
When the voting was over, Nikki was eliminated in the Top 5 selection process.
Wang Su Jing, one of the judges who is a famous Taiwanese singer, said of Nikki's last performance: "Looked like an Oscar performance". The other judge, Bow Xiao Boa, who is a Taiwanese Canadian, said he "felt like he just watched Celine Dion sing a Minnan song on stage."
Although Tai Idol is a "pop" singing contest patterned after American Idol, Nikki is also a vocalist / guitarist with the rock band "Liquid Blue" which was the first American band signed to a major Chinese record label (Shanghai Audio & Video). Liquid Blue has performed in more than 100 countries, a world record. Among their many performances in China, the band was featured at the 2008 Summer Olympics Kick-Off event for CCTV in Beijing.
For more information on Liquid Blue in China, see this Wikipedia article: http://en.wikipedia.org/wiki/Liquid_Blue
Or, visit the Liquid Blue web site at www.LiquidBlue.net
Liquid Blue's new single, "Earth Passport" is currently at #3 on the Billboard Dance Charts! This "dance band" now has an original dance HIT and it's the number three selling dance song in the USA. The song is also at #12 on the Billboard Hot Singles Sales Chart.
Congratulations Liquid Blue!
Earth Passport earned Liquid Blue a Guinness World Record as it was sung in more languages than any other song ever to hit the Billboard Charts. All six official United Nations languages were used in the recording, plus three others. The band also holds a 2nd official world record for "World's Most Traveled Band", which was set in 2008.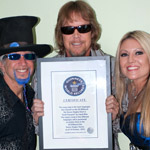 ,br>
For more information on Liquid Blue, contact
Scott Stephens, Liquid Blue Manager
Phone: (760) 942-4545
Email: manager@liquid-blue.com
Web: www.liquid-blue.com
Scott Stephens, manager
148 N El Camino Real, Encinitas CA 92024
760-942-4545
manager@liquid-blue.com

www.LiquidBlue.net
Sidebeat Music is on Actors Entertainment, a site on the Actors Podcast Network, a Pepper Jay Production.