AFM 2013 Flashback Part 5 with host Kurt Kelly on ActorsE Chat

ActorsE Chat on Actors Reporter coverage of American Film Market 2013
– with host Kurt Kelly, Part 5, and Kurt's guests: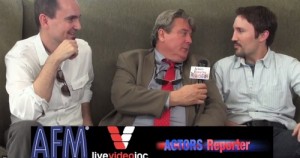 1. Steve Kopera and Mike Kopera: Mike and Steve Kopera a two brother team from Michigan who were at AFM 2013 promoting their new movie, "The Cabining". The movie was unveiled at AFM with an amazing 400 others to great reviews. The movie was shown to great reviews and was shot in Northern Michigan. "The Cabining" is a horror thriller about a group who visit a cabin. Todd and Bruce are a screenwriting team who are told that they have the chance to make the movie that they have been dying to make. They have a two week deadline however to complete the script so they decide to head to a cabin in northern Michigan which belongs to the wealthy uncle who will fund the movie if they are able to deliver a full script to him within two weeks. Knowing that this is their last chance for greatness they decide that they will head to the cabin, hunker down and then see what they can do to make that timeline happen. The only thing that is the problem is people start to die off one by one.
2. Alex Barnes: Documentarian Alex Barnes was was in California for a month filming a documentary about an Australian who was teaching children marshal arts. Alex produced his first film in 2013, called The Turning. The movie was a collection of stories which have been added together as a short film. The film won many awards and has been very successful. The movie starred Kate Blanchett as well as many other award winning actors.
Having graduated from a Bachelor of Film and Screen Media at Griffith Film School in 2009, Alex was quick off the starting blocks to gaining his first national broadcast credit with his award winning documentary, "Not a Willing Participant". A production which saw him film in Venice, Italy, for a week during production in 2009. In 2010 the film took out an ATOM award for Best Arts Documentary and Best Independent Documentary at the Warner Roadshow Queensland New Filmmakers Awards. The production also saw a considerable amount of airtime with screenings on both ABC and Foxtel's NITV network, as well as a six month feature on QANTAS Airway's inflight entertainment.
In 2011 Alex was awarded the converted Screen Queensland Chauvel Award for his documentary proposal Black Cockatoo, White Cockatoo which is currently in development with Carbon-Media and Silver Screen Pictures. 

Over the last 6 years Alex has continued to produce and direct a diverse slate of projects including an array of high concept music videos for many Australian artists such as Kate Miller-Heidke, Ball Park Music, Hungry Kids of Hungary and Emma Louise.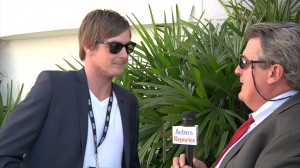 Most recently Alex has been working as a producer on "Immunity", a chapter from Australia's first anthology feature film "The Turning" adapted from the book by Tim Winton and Executive Produced by Robert Connelly (The Boys, The Bank, Balibo) of ArenaMedia.

Continuously working to advance his craft, Alex has been a regular attendee of Australian screen markets and events including AIDC and SPAA which he has been a delegate at for the past 5 years. Alex strongly believes that screen media is nothing without a strong concept and an equally developed target audience and market strategy.
3. Ari Novak: CEO of The Oracle Film Group is dedicated to the Group being the premier boutique entertainment group specializing in the production and distribution of motion pictures and entertainment. The Oracle Film Group strives to be socially conscious, yet flexible, in its approach to achieve its goals. The philosophy at The Oracle Film Group is simple: "Excellence is not found in the size of your checkbook but in the strength of your work. Oracle represents a fusion of art, technology and business striving towards the success of each project's unique needs."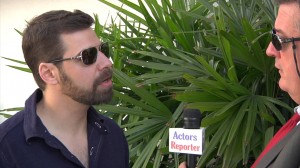 Current projects include Led Zeppelin: Sound and Fury, by Neal Preston, is an in-depth, illustrated digital book created and designed especially for iBooks. It provides an unprecedented and comprehensive glimpse into the world of Led Zeppelin through the lens of famed photographer Neal Preston. The piece included over 250 photographs of Led Zeppelin onstage and behind the scenes (over 100 previously unpublished) – 80 expandable contact sheets – 25 audio commentaries – 11 video interviews – 44 samples of ephemera and memorabilia – 24 Led Zeppelin set lists – 23,000 words of text – Written introduction by Stevie Nicks. Co-production with Rhino / Warner music group and Apple.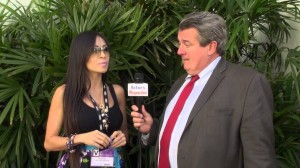 4. Excelina: Excelina is a model actress and fashion designer. In addition to being an actress and model Excelina is also the current reigning Miss Columbia.
5. Phil Gorn: Phil Gorn, CEO of Wonderphil Productions, is also a very respected director and producer who has been a part of the industry for over a decade. Phil is leading an international media company which focuses on international distribution for films and television. Since 2001 Phil has personally directed or produced over 13 films. Some of his most well known movies include: Richard the Lionheart: The Rebellion, this is the story of the war of Henry II against his sons. This is in production right now and will be released in 2014.
Phil Gorn is an independent filmmaker and has experienced many deals in the last 10 years. WonderPhil Entertainment represents films at many of the major Film / TV markets, including the American Film Market, Berlin, MIPTV, MIPCOM, DISCOP, Eurasia, the Cannes Film Festival/Market. Between markets, WonderPhil places films for domestic & international release.
6. Edward Surpickij: Producer Edward Surpickij has "Hunting the Phantom" in Production, an action feature film starring Kristanna Loken, Armand Assante, and Jose Rosete. "MG Production" is one of the most famous and progressive film companies in Kazakhstan and actively collaborates with large number of partners from diverse spheres of culture and art, around the world.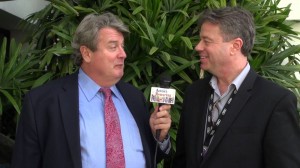 For the time of its existence, the company has been reaching significant success: creating a range of full-length feature films and documentaries. MG Production builds projects, beginning from development (creating screenplay, conducting Pre-Preparatory and Pre-Production works) including Production period (shooting process) and Post-Production. Their politic is "Open for Co-production!"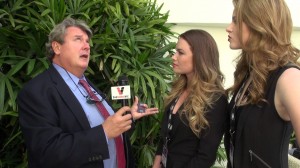 7. TomCat Films' Sales Rep Loralle Venna: TomCat Films LLC is a vertically integrated film sales, licensing and distribution company with headquarters in Phoenix, Arizona and affiliate locations in Beverly Hills, California, New York City, New York, and Selangor, Malaysia. The company specializes in the sub-distribution and licensing of film and TV product to buyers, distributors, broadcasters and industry participants. TomCat Films attends all the major film markets including the American Film Market, European Film Market in Berlin, Hong Kong Filmart and the Cannes Film Festival. The company distributes over 100 feature films with distribution deals in place worldwide. Many of TomCat's films can be seen on Netflix, InDemand, Family Video, Best Buy, Amazon and other establishments in the U.S./Canada and around the world.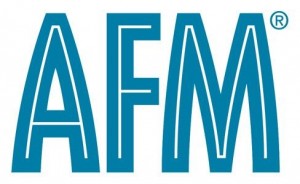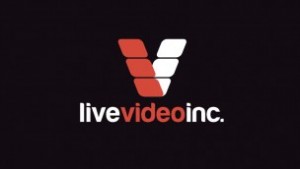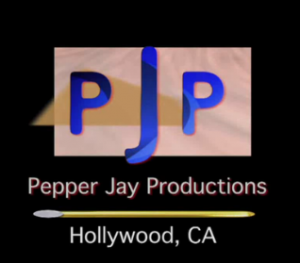 ActorsE Chat is a Live Chat Show on Actors Entertainment, a channel on the Actors Podcast Network, a Pepper Jay Production