ActorsE Chat with voice coach Lisa Popeil and singer entertainer John Michael Ferrari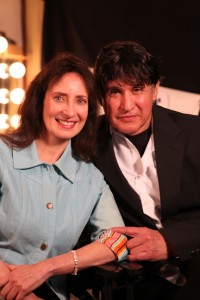 Lisa Popeil is a vocal coach at Lisa Popeil's Voiceworks®
In 1981, Popeil performed in her underwear with Frank Zappa at the Santa Monica Civic Auditorium and sang "Lisa's Life Story", "Dangerous Kitchen", and "Teenage Prostitute".[2] The latter was included on Zappa's album Ship Arriving Too Late to Save a Drowning Witch which featured Zappa's biggest-selling song "Valley Girl". An edited version of "Lisa's Life Story" appeared on the album You Can't Do That On Stage Anymore, Volume 6 released in 1992. Since 1983, Popeil has sung back-up vocals with "Weird Al" Yankovic, notably on the song "Mr. Popeil" which pays homage to her own father.
In 1984, Popeil produced her self-titled album Lisa Popeil which was chosen as a Billboard "Top Album Pick". That record featured Steve Vai and Joe LoDuca as guest musicians. She appeared at a 1998 concert at the Getty Center, performing in Erik Satie's Socrate.
Popeil taught pop and classical voice classes at the College of the Canyons in Santa Clarita, California from 1989-1999 and taught private jazz voice at CalArts in 1995.
In 1995, she released her Total Singer video/DVD program followed by the educational CD How to Speak Beautifully. In reference to her father being a pitchman for gadgets, she says she is "The pitch woman of voice".[2]
As a voice researcher, Ms. Popeil has conducted research with Drs. Johan Sundberg, Ken-Ichi Sakakibara, Matthias Echternach, Jack Jiang, Nathalie Henrich, Steven Feinberg, and Thomas Cleveland.
Her "Daily Vocal Workout for Pop Singers" CD was released in 2013.
In 2014, Lisa sang background vocals on 'Weird Al" Yankovic's "Tacky", a parody of Pharrell Williams "Happy".
Lisa Popeil's Official Website
John Michael Ferrari's Website
ActorsE Chat is a Live Chat Show on Actors Entertainment, a channel on the Actors Podcast Network, a Pepper Jay Production.