ActorsE Chat with Actress and Acting Coach Shelley Mitchell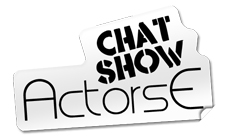 Ron Brewington hosts
Actress & Acting Coach Shelley Mitchell
on ActorsE Chat Show
PHOTO
Mobile Version
[flv]/wp-content/videos/ActorsE_Shelly_Mitchell_Ron_Brewington.flv[/flv]
Discover:
How Shelley Mitchell learned with Lee Strasberg what lead to her current teaching?

How did Shelley Mitchell discover the material for the Play – Talking With Angels?

Has Shelley Mitchell changed spiritually since performing Talking with Angels?

Why Talking with Angeles is relevant to today's world?

and

How can people connect with Shelley as an Acting Coach?
Shelley Mitchell
is with the American Film Institute and teaches privately in Los Angeles under the moniker
Duse Studio of Dramatic Art. Her performance coaching clients include Tom Waits, Eamonn Walker, Aluna Francis (of AlunaGeorge) and Harvey Keitel.
Shelley graduated from Circle in the Square Theater School where she studied with legends like Irene Papas, Estelle Parsons and Madeline Sherwood. She trained extensively with Lee Strasberg at the Actors Studio and as a young actress was mentored by his protege, Ellen Burstyn. Shelley Mitchell moved to LA from San Francisco in 2014 and has been cooking ˜The Method™ back to it's liberating and consciousness-expanding essence for 25+ years.
Talking with Angels
First time for Los Angeles … life-changing true story … four young artists encounter Nazis, interfaith meaning, otherworldly beings, remarkable dialogue … This is simply fascinating theater in a one-woman play, Talking With Angels, Budapest, 1943
With Shelley Mitchell
Whether you believe in angels or not, the message in Talking with Angels offers hope and inspiration, especially now, when so much fear and anxiety rules our life through disturbing daily news!
Playing multiple characters, the play begins and ends with Shelley Mitchell portraying an 84 yr.old Holocaust heroine, Gitta Mallasz, the only survivor from a close knit group of young artists who, despite chaos in Nazi occupied Hungary, held weekly meetings where they transcribed channeled messages received from what appeared to be angels!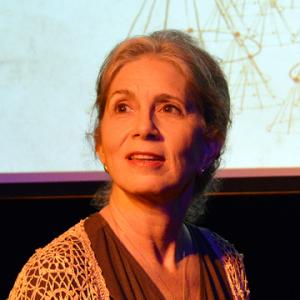 and with a turn of her head or change in expression, she becomes four distinctly different angelic personalities that bring forth messages of council and comfort. The play covers a mystical and inspired historical period of 17 months when Hungarian Nazi's were set on destroying Jews and anyone who tried to save them. Sadly, of this group only Gitta Mallasz survived but fortunately, she was able to secretly hide these amazing and uplifting transcripts the group documented which ultimately was brought out of Hungary and turned into a best selling French publication, Talking With Angels (Diamon Press) transcribed by Gitta Mallasz.
Historical note: Mallasz has been recognized (posthumously in 2011) by Israel's Yad Vashem and awarded the title of RIGHTEOUS AMONG THE NATIONS for help rendered to Jewish persons during the Holocaust at the risk of her own life.
This is a remarkable story.
Talking with Angels details:
Who: Shelley Mitchell, an American Actress performs multiple characters in a one woman show based on true stories of life and death in Nazi controlled Budapest.
What: Talking With Angels, Budapest, 1943 play starring Shelley Mitchell, adapted from the best selling book TALKING WITH ANGELES.
When: June 3rd to June 18, 2017, with various times listed at Hollywood Fringe The Dorie Theater – 6476 Santa Monica Blvd, Hollywood, CA 90038
How: Tickets $12.00 at HollywoodFringe.org
Video link to Talking with Angeles
Promo Trailer
---
For interviews with Shelley Mitchell please contact:
Roz Wolf – 818-522-7948 – RoxWolfPR.com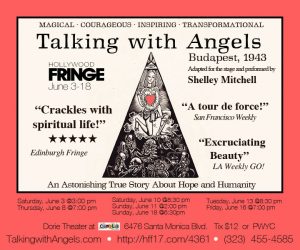 w.imdb.com/name/nm0593726/?ref_=fn_al_nm_1″ target="_blank">Shelley Mitchell on IMDb
Connect with Ron Brewington:

The History Makers
Ron Brewington on Facebook
Ron Brewington on Twitter
Ron Brewington on IMDb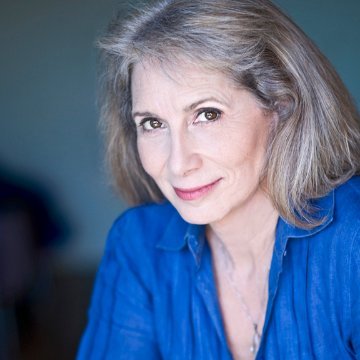 ---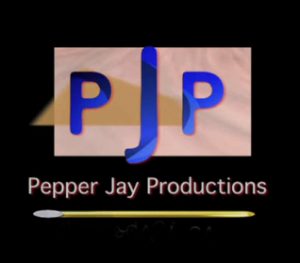 Pepper Jay Productions
ActorsE Chat is a Live Chat Show on Actors Entertainment, a channel on the Actors Podcast Network, a Pepper Jay Production.