Actor Moe Irvin on ActorsE Chat with Cerris Morgan-Moyer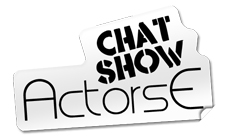 Moe Irvin is a Southern California native originally from Riverside, California. He is a lifetime member of The Actors Studio and a founding member of The Whitmore Eclectic Theatre group; a company formed in honor of the late James Whitmore. He is also the writer, director and star of the award winning Fake trailer WACKO JACKO as well as writer, director and star of the upcoming STANFORD & SON with Ernest Harden Jr. under his Underbelly Filmworks title.
Moe is best known for his role as Nurse Tyler Christian in the American television medical drama, Grey's Anatomy. Aside from his recurring role in Grey's Anatomy, he has had appearances in the TV shows Alias, In Justice and V.I.P., and in the films Killer Weekend, The Human Quality, Con Games, The Helix… Loaded, Hush: A Film by Eva Minemar, Bulldog and Shakedown.
Additionally, Moe appeared on stage in "Our Lady of 121st Street" premier in L.A. 2006 – 7.
Cerris Morgan Moyer's Website

ActorsE Chat is a Live Chat Show on Actors Entertainment, a channel on the Actors Podcast Network, and this episode of ActorsE Chat is co-produced by Pepper Jay Productions LLC and Live Video Inc, with PR-Marketing-Sales by Live Video Inc.