Actor / Director Sy Richardson and host Ron Brewington on ActorsE Chat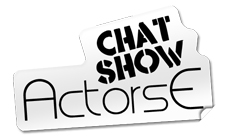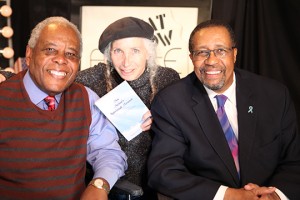 Sy Richardson recently was recurring in the twelve Emmy nominated series 'PUSHING DAISIES", and his Fed Ex, Super Bowl Commercial "PIDGEON was a 2008 Emmy nominated commercial. Sy Richardson won the 2007 Best Actors Award at the 168 Hour Christian Film Festival.
Richardson was born in Cincinnati, Ohio and raised in Chicago Illinois. He attended fourteen elementary schools, five high schools, three colleges and spent seven year driving for the Chicago Transits Authority. After two years on active duty with the United States Navy. He had an epiphany. "An artist is a free spirit and boredom is a breath away from the grave."
He started singing at twelve and wrote and recorded his first record with Lil June and the Januarys at sixteen. In his mid-twenties, Sy & Lil June and the Januarys formed their own recording company called Trans World Sound. Life slapped him in the face and he knew it was time to further his education.
Sy graduated from UC Boulder with a BS in Journalism specializing in advertising. After a short stint with several Colorado newspapers, he opted to act and joined the Heritage Square Opera House in Golden Colorado. He performed in vaudeville shows and Olios from Salt Lake City Utah to St. Louis Mo for two years. Boredom set in and Sy trek to Hollywood.
He has appeared in over seventy movies, fifty television shows and sixty plays. Richardson career reach another level after meeting and working with Alex Cox on Repoman and Straight to Hell, which was his first lead role. He is on the Repoman Soundtrack CD performing Bad Man and Performing A Town Called Big Nothing with Elvis Costello on the Out Of Our Idiot CD. His career has taken him to film locations from the US, to Europe, South America and Australia. Searcher 2.0. is the seventh film with friend and director/writer Alex Cox.
Sy Richardson wrote the original screenplay " Posse" He self-published five books African American Actors (how to live and work in Hollywood), 60 Questions (a busy actors guide for building characters), Cold Reading Made Simple, The Popcorn Cook Book and PEP (prayer education & persistence) for Christian Entertainers. Sy has traveled around the United States doing lectures on How to Live in Work in Hollywood and PEP for Christian Entertainers..
Sy wrote, directed and produced three shorts films Last Chance, Us Against Them and Familiar Strangers. He co-produced and directed the Symposium 98, a documentary, for the SAG/AFTRA EEOC department. He directed "TREE" for the Los Angeles Opera Foundation. His direction of "South Of Where We Live" won one out of three nominations for the NAACP Image Awards in 1988. Summers In Suffolk was nominated for three NAACP Image Awards in 1996. Passing won two out ten NAACP nominations in 1997. Sy's (someone stole your fries) McDonald's spot, received the 3 star positions for Advertising Age Magazine in 1998.
Richardson is on the Board of Directors for the Towne Street Theater, He chaired the SAG Casting Committee for three years and taught a cold reading class for the SAG Conservatory and a former member on the Board of Directors for the Screen Actors Guild.
Sy taught a Bible Study class for adult entertainers at West Angeles Church of God and Christ for 6 years. Richardson is married to a former Blue Satin model and have one step-daughter and two granddaughters. When ask how did he manage to survive a career as an actor for thirty years. He produces a big smile and a twinkle in his eyes. He states, "I keep some PEP in my step
Ron Brewington Facebook

ActorsE Chat is a Live Chat Show on Actors Entertainment, a channel on the Actors Podcast Network, and this episode of ActorsE Chat is co-produced by Pepper Jay Productions LLC and Live Video Inc, with PR-Marketing-Sales by Live Video Inc.


Live Video, Inc. has strategic partners all over the world, including Pepper Jay Productions LLC, and for this reason they are able to offer some of the best solutions to our partners and friends. Whatever the size and scope of your project, you will need professional consulting to assist in making your creative vision come to life. Live Video, Inc. wants to make that transition seamless for you offering you everything from inception to completion to assist you in your creative vision. Check out all of the solutions at Live Video Inc!