Acting in Style – LA Fashion corner 2010 Pre-Emmy's Charity Fashion Show "Caring with Style"
Acting In Style
Episode 5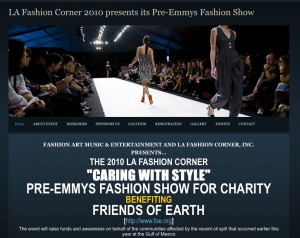 Red Carpet from LA Fashion corner 2010 Pre-Emmys Fashion Show
"Caring with Style" to benefit "Charity Live"
Local and national fashion designers united for a charitable cause with the LA Fashion Corner's "Caring with Style" Fashion Show. This exclusive fashion event took place August 24th, in Hollywood, CA.
Red Carpet from LA Fashion corner 2010 Pre-Emmys Fashion Show, Part One
[flv]/wp-content/videos/5_Acting-In-Style_Pre-Emmys_Fashion_Charity_Part1.flv[/flv]
On the Red Carpet:
Parris Harris, Associate, Daisy, Victorian
Farin Fanaian, Student, FIDM
Vartan Nadjaryan, Hye Angle Designs
Angie Babaknani, Vismaya, Scarfs
Melanie Harrison, Model
Malgorzata Couture (San Diego)
Audrey Genevieve Holland, Snow Princess fil,
Jae Tracie, Model
Jon Morgan Woodward, Journey film
Red Carpet from LA Fashion corner 2010 Pre-Emmys Fashion Show, Part Two
[flv]/wp-content/videos/5_Acting-In-Style_Pre-Emmys_Fashion_Charity_Part2.flv[/flv]
On the Red Carpet:
Claire Sinclair, Actress – Playboy Centerfold October 2010
Darche Cinn, singer
Walter Mendez, designer Walters Collection
RydazNrtisT, singing group
Mark Valinsky, actor
Dave Shelton, Writer, Cartoonist, Actor
Diahnna Nicole Baxter, producer
The event raised funds and awareness on behalf of the communities affected by the oil spill earlier this year in Louisiana's Gulf of Mexico. While many designers have supported their individual causes in the past, this event marked the first time a group of designers joined together in the name of one cause. The Gulf spill has devastated the long-term livelihood of thousands of Gulf residents – fisherman, restaurant and resort owners/workers, sport fishing operators, shop owners and business owners and workers at large – leaving them all at dire risk for their economic future. Additionally, the sea life of the area has suffered greatly; turtles, fish, birds, alligators, and vital plant life are all victims of this tragic event.
Charity Lives, LA Fashion Corner and F.A.M.E (Fashion, Art Music Entertainment) came together to provide this star-studded fashion show capping off the 62nd annual Emmy Awards by showcasing some of the country's most exciting new fashion designers. The fashion industry's top models, wardrobe stylists and hair and make-up artists donated their time and talent to the cause.
The red carpet was followed by a luxury fashion show with music, fashion industry exhibits, gourmet appetizers and complimentary gift bags. A VIP reception featuring celebrities from the worlds of entertainment and fashion was held for special sponsors and donors.
For Interview, Talent and Media please contact:
Yvette Morales
YM & Associates PR | Marketing | Business Development
949-244-9769 or YMoralesY@aol.com
[flv]/wp-content/videos/5_LA_Fashion_Corner_Photos_by_Travis_Jourdain.flv[/flv]
Photos by Travis Jourdain
Acting in Style is on Actors Entertainment, a channel of the Actors Podcast Network, a Pepper Jay Production.