Acting in Style – Dezi Style! – The Correct Way to Choose a Travel Backpack
Dezi Style! – The Correct Way to Choose a Travel Backpack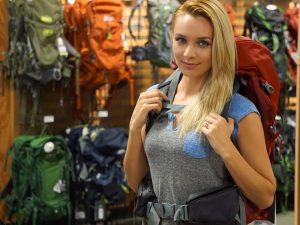 Whoever said size doesn't matter…was wrong.
One of the most exciting moments in preparing for a trip is picking out your backpack. For some, you've already experienced the advantage of ditching the suitcase for a more useful tool such as the backpack, but for others, you may be wondering what the perks really are. For one, it leaves you much more mobile and handsfree. If you are an adventurous wanderluster like myself, having a backpack is not only more simple and stress free, but you're also able to roam around unencumbered. Many small towns or third world countries do not have the smooth, paved sidewalks you may be used to rolling your suitcase on back home so to avoid being that clumsy tourist trying to lug your suitcase over cobblestones or dirt roads, it is wise to opt for something as uncomplicated as a backpack.
The other concern many have is space. It's true, you'll likely have less space than a big boxy suitcase but in reality, if you know how to pack efficiently and choose versatile clothing options, you'll still be able to bring everything you need, regardless if you're planning on traveling for 2 weeks or 2 months. It is definitely a transition that can take some practice and getting used to, especially for the ladies that love fashion/shoes (again, guilty as charged), but what you'll find is that when you can simplify your material items, you tend to focus more on the actual experiences you are there to have.
Your backpack becomes a part of you throughout your travels and will likely be with you for many years to come, so it is crucial to not only choose one that suits your upcoming itinerary, but fits your body correctly. Buying a quality one can be a little pricy but just think of it as an investment into your future comfort and convenience, two things we can all use more of when on the road. Luckily, there are a lot of options out there, you just need to know what factors to look for when determining which will become your new travel partner. So, without further adieu, here are the most important things you need to know about when purchasing that pack.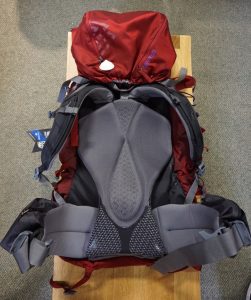 Size matters! This is the most important detail in the entire process and will heavily influence how comfortable you are throughout your travels. Depending on your torso length, you'll want to make sure the backpack you choose, fits on your waist/hips correctly. Most of the weight in your backpack will rest evenly on your hips, easing up tension on your shoulders and back. I would highly recommend you have a knowledgeable sales rep at a reputable recreational equipment store take your measurements for you. They have a simple tool that will measure the distance between the top of your hip bone and your C7 vertebrae so you can choose a backpack that fits your frame best. You'll also want to be sure your bag isn't too tall or wide, making it more difficult to see around you or take as a carry on item if need be. (Be sure to check airline regulations for current weight or dimension limits.)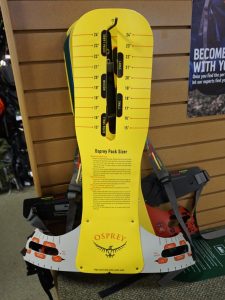 Functionality is key. You want to make sure your bag offers additional exterior compartments for organizing and storing items. The outside of the backpack should have at least a few loops to hang things from and perhaps even a holster for a water bottle. It's also very handy to have a backpack that offers multiple access points to the main compartment. Trust me, when all your personal items are condensed into this small space, you'll be glad to be able to get in and search for something particular through other portals.
Water resistant material is a must. I wouldn't worry about a water-proof backpack unless the conditions of where you're going will absolutely require that. Even with a water resistant backpack, I've made it through rainstorms walking to train stations with a cheap poncho and trekking through humid jungles without a bit of my clothes or personal items scathed. Inevitably there will be a time when your backpack comes into contact with a liquid of some sort (hopefully just water) but you'll want to make sure it doesn't soak through or cause mildew so keep your eye out for resistant material when choosing a bag.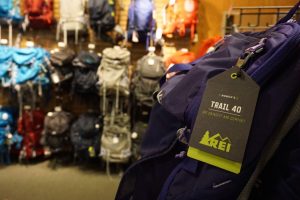 Padded support will save you from pain. Make sure your backpack has contoured back and spine support. Additionally, padded shoulder and hip straps are very necessary. It'll make a big difference in your comfort levels, especially on longer trips. The padding on the back should also put some space between your back and the pad, allowing for air flow. If you're trying on backpacks in-store, put one on and have a rep add some weight bags to it. Any legit recreation equipment store should have them. Walk around the store and get a feel for it.
No need to spend an arm and a leg. There are plenty of quality backpacks on the market for around $100 or so. Search for coupons online, outlets or upcoming in-store sales for additional savings. R.E.I. has an online outlet as well as periodic "garage sales".
Frame or no frame? Internal frames are always going to be better that any external ones. If your backpack is small enough, it may not require one, however, if it does, internal frames tend to be more comfortable, lightweight and durable.
Extra bells and whistles. Ok, maybe not actual bells or whistles, but there are definitely some additional features that surely add the cherry on top when picking the perfect backpack. Such features might include but are not limited to: zippered hip pockets for easy access items, attached lightweight day bag, rain poncho, luggage transport cover and so on. Select bags may also offer independently adjustable shoulder straps. These components may not be necessary but they are totally helpful to have if you can.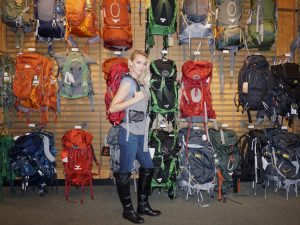 There are many backpacks out there and they are certainly not created equal, so do your due diligence and research before you shop. Remember, the first step is knowing your correct size and from there, it's like building your perfect pack piece by piece. Putting your comfort and convenience before aesthetic preferences and even price will help to ensure you have an all around better experience with a backpack that will last you many more adventures.
---
For more information on Top July Summer Festivals Around the World | 2016 by Dezi Style! Visit Dezi Style!
---
DesiStyle on Instagram
Desiree's Tumblir
Desirée Anderson's Blog
DeziStyle by Desirée Anderson Chance is syndicated on Acting in Style, an article on Actors Entertainment, a site on the Actors Podcast Network, a Pepper Jay Production.