A Delighted Gisell wins for Romantic Singer at Premios Talento 2010
A delightful Gisell wins the Romantic Division of the Premios Talento 2010 singing/performing contest.
Enjoy interviews Gisell (Giselle Castillo) and other great talent at Premios Talento 2010, at the Million Dollar Theatre in Los Angeles, February 2010. Premios Talento is an annual event dedicated to helping promote new talents in Los Angeles, California.

GISELL: INTERVIEW & RED CARPET
[flv]/wp-content/videos/6_Gisell_Talentos_Premios_2010.flv[/flv]
| | |
| --- | --- |
| | Gisell talks about her career and thanks her family, friends, fans, and her performance coaches Pepper Jay and John Michael Ferrari. |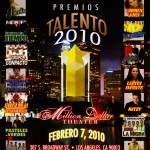 RED CARPET: PREMIOS TALENTO 2010
[flv]/wp-content/videos/6_Talentos_Premios_2010_English.flv[/flv]
Premios Talento is a unique televised and promoted event of its type, in which the top 50 upcoming bands and artist of Los Angeles are nominated, recognized, and awarded. Dozens of
famous artist are attending this award ceremony to perform and present
the awards to the winners. Our mission is to give local and regional talent
the opportunity to shine in a mainstream media event. The show was be recorded and
broadcasted on TV on KWHY Canal 22.
The wonderful Humberto Luna was the Master of Ceremonies. Participants at the Premios Talent 2010 event, Enjoy in the Actors Reporter video the appearances of Gisell, Sergio Armando Duran, Stress, Belinda Gomez, Contagio Show, Copal, Lizzy Garza, Flechazo Norteno, Sergio, Nambo, Melinda del Toro, J Smooth, Julio Cesar, La Luz Roja de San Marcos, Mariachi Latino de Jose Cervantes, Paco del Barrio, Los Tenampaz del Norte, Tiranos del Norte, and the wrestler Viper and others.