2.156 September 10th, 2010 – ActorsE Live Chat with musician singer songwriter Ben Babylon & percussionist John Mahon with host Brett Walkow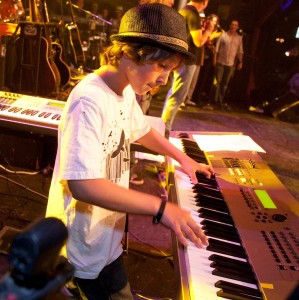 Ben Babylon is ahead of his time. This young musician/singer/songwriter grew up watching his father, Grammy-winning keyboardist Guy Babylon, work closely with Elton John. Now, just over a year after his father's untimely passing, Ben is following in his footsteps, writing songs with insightful lyrics and laying the groundwork for his own musical career. His first recorded song, "Goodbye Superman," which he wrote in memory of his father, has attracted international attention and been performed at such venues as House of Blues, The Canyon Club, The Mint, Yoshi's Oakland and elsewhere. It is available for download on iTunes. Ben is now recording his first album consisting of all original material.
As the percussionist with the Elton John Band since 1997, John Mahon was a friend of Guy Babylon, and remains close to Ben. He has given of his time to Ben, offering musical advice and helping him in the recording studio. When he is not touring or recording with Elton John, John Mahon often works on his own recording projects and those of others. He has worked with Billy Joel, Backstreet Boys, Sting, Mary J. Blidge, Stevie Wonder, Tina Turner, Ray Charles and many more leading artists. In his free time, he enjoys mountain biking and photography.
ActorsE is a live chat show on Actors Entertainment, an arm of the Actors Podcast Network,
a Pepper Jay Production.