TradeVine entertainment news highlights for week ending September 30th, 2011
THE PURPOSE OF THE TRADEVINE IS TO ENCOURAGE THE ENTERTAINMENT INDUSTRY TO READ THEIR TRADES: VARIETY, HOLLYWOOD REPORTER, BACK STAGE, ETC. ENJOY LEARNING ABOUT YOUR INDUSTRY.
EACH FRIDAY, THE TRADEVINE SEEKS OUT A FEW OF THE INFORMATIVE TRADE ARTICLES YOU MAY HAVE MISSED. VISIT THE TRADE, ITSELF, FOR THE ENTIRE ARTICLE.
Hello everybody, I'm Mary Jo Gruber of the Actors Reporter and welcome to the TradeVine. Well, we've come to the end of another month and gathered many great articles for you to ponder. Each episode of the TradeVine is carefully put together with you, the actor, and everyone interested in the entertainment industry in mind. Our goal here at the TradeVine is to help you stay informed and to keep up with the trades, such as The Hollywood Reporter, Daily Variety, and Backstage.
Back Stage, September 22nd – 28th – In the article spotlighting Headshots & Marketing, the question becomes Are you open to demo reels that include self-produced scenes? Reported by Melinda Loewenstein. According to Paul Schnee of Barden/Schnee Casting in New York, he doesn't like seeing self-produced scenes on a reel. There are always exceptions, but it is very hard for him to get a sense of what you'll really be like on a set, in a film, or on a TV show from something you tape with a friend in your living room. According to Ken Lazer of Ken Lazer Castingin New York, self-produced scenes for reels is very risky. Many of them look amateurish and do not help the actor's situation. If you are going to create scenes, it is better to have a professional crew shot and edit them. According to Sherri Henderson of Dream Big Casting in Los Angeles, they are okay with self-produced scenes because they cast a lot of indie projects. But, Ms. Henderson reminds actors to lead the reel with their strength, meaning the credit that is the strongest or the biggest, regardless of how big of a part that you had.
The Hollywood Reporter, September 30th – Includes an interview with Hugh Hefner, who talks candidly about his sex life, intellectualism, and his ongoing search for an 'ultimate soul mate.' Want to see more on Hugh Hefner live, go to Actors Reporter dot com and type Hugh Hefner in the search box, Hugh Hefner speaks to the camera from his Playboy mansion in Los Angeles, California.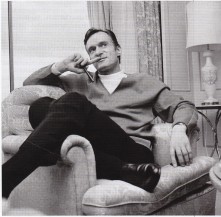 Daily Variety, Monday, September 26th – Website founder pleads guilty in piracy, by Ted Johnson. A founder of the NinjaVideo website plead guilty on Friday for his role in offering pirated downloads of movies and television shows. Matthew David Howard Smith, 23, of Raleigh , North Carolina, plead guilty in afederal court in Virginia to conspiracy and criminal copyright infringement. NinjaVideo operated from February 2008, until it was shut down by law enforcement in June 2010 as part of the government's Operation in Our Sites crackdown.
Well, that's it for the TradeVine this week. I'm Mary Jo Gruber. Thank you very much for watching. And remember, You heard it through the Tradevine!